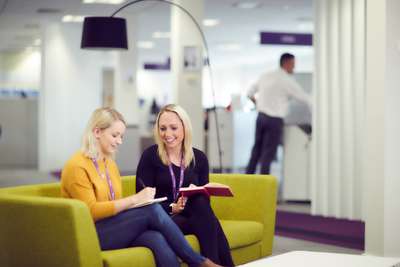 We work hard to create positive work spaces, with inspiring surroundings and excellent facilities.
Our buildings are modern, spacious and bright, with plenty of meeting rooms, break-out areas, kitchens and canteens.
With central locations and excellent transport links to all offices, your ideal role could be closer than you think. We have several offices in Nottingham, which is home to our regional operational headquarters, with further hubs in Glasgow and London.
And, if you travel to work on public transport, we could even help you out with an interest-free loan to spread the cost of an annual ticket.
Our Community
Giving back has always been important to us. Every employee has access to 3 volunteering days with a local charity or organisation of their choice. It's a chance to do something different, support a cause close to your heart and make a positive contribution to your community.
We're passionate about giving people access to financial services. Our scale and expertise means we're in a unique position to help tackle debt and improve people's financial wellbeing around the world.