We've had a long commitment to be more sustainable in all areas of the business. Sustainability is a more important consideration as we strike a balance between service to our customers, our impact on the environment and communities, customer bills and future investment. We're proud of the progress in the last year and continue to work hard to deliver for our customers and the environment.
Nine themes make up the heart of our sustainability policy, which is agreed by our Board. Our policy reflects all areas of our business. It helps us make critical decisions over the long-term.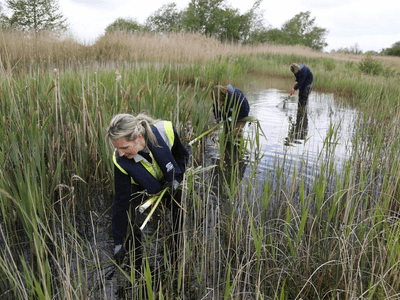 Our nine themes are:
Protecting water, a precious resource
Managing wastewater and sustainable drainage
Mitigating climate change
Adapting to climate change
Delivering efficient operations
Investing sustainably for the long-term
Ensuring responsible operations
Enhancing customer inclusion
Maintaining a safe and sustainable workforce
We've reset our corporate strategy, adding 'generating public value' which aligns with our approach to sustainability. This shows how seriously we take being a responsible business and go beyond our core functions to do the right thing for today and tomorrow.
Environment, Social and Governance
To support our strategic ambitions and our approach to sustainability, we continue to put the Environment, Social and Governance (ESG) agenda at the heart of our financial decision-making. As well as our regulatory and financial submissions, our ESG performance is independently benchmarked to provide insights into our sustainability performance.
Although we publish ESG data and information in other documents, we draw it together in a separate ESG Statement to improve the accessibility and transparency of this information. In October 2021, we published our fourth ESG Statement which brings together data from 2016 to 2021 and includes references to the sources of a range of key performance measures to give balance and context for our latest performance information.