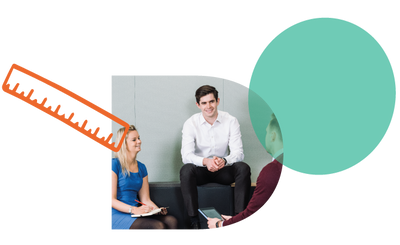 At video interview:
Be professional – you may be interviewing from home or university but you should still dress the part and present yourself as if interviewing in person
Try to use a plain/neutral background – you don't want the reviewer to be distracted by the television or wall of posters behind you
Find somewhere quiet where you will not be interrupted during your recording – each response has a time limit so you should be free from distraction to make the most of that time
Make use of your practice time – the video interview system offers unlimited practice time before you record your answers so take advantage of the opportunity as this can help calm your nerves
Try to engage with the camera rather than the screen – it may be difficult to ignore yourself but Launchpad has a handy blurring tool that may help you with this.
At face-to-face Interview:
You have completed the written application form and passed your video interview – great news! Now you have been invited to face-to-face interviews. Going to a firm's offices and meeting the people who could be your future colleagues can feel both exciting and fairly daunting.
However, everyone at Bristows is very friendly and makes every effort to ensure you feel comfortable and at ease.
There are two interviews, the first of which is with a partner and a senior associate. If you are successful you will be invited back for a second interview with two partners from the training committee.
It is always important to remember that if you have made it to the interview stage you have a strong application and should approach the interviews with every confidence.
Below are a couple of tips to help you perform to the best of your ability on the day. Best of luck!
1. Be on time
Or better, be slightly early. Whilst fairly obvious, punctuality is really important, especially as a first impression. It's also much easier to relax when you arrive in time to compose yourself and adjust to your surroundings.
2. Know your material
Interviewers will be interested in everything from any work experience you have had to your favourite university module to your most recent holiday!
Ensure you can summarise different parts of your CV clearly and succinctly. Think about the competencies that the firm has highlighted on its recruitment site and what examples you have from your life/work that demonstrate these. Having these on the tip of your tongue will make answering questions that much less stressful.
3. Don't put unnecessary pressure on yourself
View the interview as a learning process rather than an all-or-nothing assessment. This is an opportunity for you to find out more about the firm and its areas of expertise whilst showing the side of your character that cannot be conveyed through a written application. The interviewers are not trying to catch you out so just be yourself. If you are interested in specific practice areas of the firm this is the perfect opportunity to ask some further questions.
4. Have an opinion
Your interviewers are interested in you personally and how you think. Do not be afraid to express your view on a topic. Equally be prepared to support your opinion and explain why and how you have reached your conclusion. You may be asked supplementary questions to challenge you – remember the process is more a discussion than an exam so don't worry about not having a perfect answer.
If you are asked something that you genuinely do not know the answer to, do not panic. Your interviewers will be happy to provide clarification. It is better to ask for some context or further information than simply venture an opinion on an issue you are completely unfamiliar with.
5. Take your time
You will be able to answer more succinctly if you don't rush an answer and take a moment to think about the issues involved.
6. Show your interest
What is it about Bristows specifically that has appealed to you? The firm is looking for people that have a genuine enthusiasm for the type of work carried out here and share the same values in terms of workplace culture.
You do not need to know the entire contents of the firm's website, but be clear as to why you feel this is the firm for you.