At CGI, we're on a mission to leave the planet a better place than we found it. We've put local sustainability initiatives in place wherever we work, and our members do what they can to stay mindful, accountable and active contributors to responsible practice. Tree planting programmes, restoring peatlands, developing green spaces in our offices – whether we're volunteering time and resources or taking small, individual daily actions, we're determined to make an impact.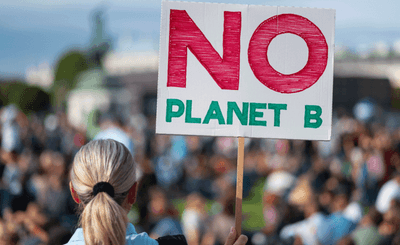 'No Planet B', our UK-based group of passionate environmental advocates from CGI, works with various teams across the business. They're always finding ways we can be more sustainable and this year, they've whipped up our first ever Net Zero and No Planet B Roadshow! There'll be e-car and e-bike testing days, litter picks and educational webinars on a range of clean energy topics, and we're really excited to kick things off.
We're empowering all of our members to make the environment a priority. "Earth Day holds great significance for CGI. It's an opportunity to reflect, appreciate and demonstrate action and in the years ahead, CGI will continue to share how we're protecting the planet, and our commitment to the sustainable management of natural resources." - Mattie Yetta, Chief Sustainability Officer
Below you can hear from some of No Planet B's volunteers about the difference they've already made, what's coming up and what we can all be doing to take care of the one planet we've got!
Empowering everyone to make the environment a priority
"Our conscious choices do matter, and with No Planet B, we're helping people both inside and outside of our business to make more climate-friendly decisions. We've set up numerous nature and climate-positive schemes and initiatives, including access to the PawPrint app, and giving everyone the ability to make more climate friendly-decisions (for example, by placing EV points at our office sites)." - Maya Spence, Consultant
"Climate action is something I feel passionately about and I am always actively thinking about my impact on the planet and how I can make improvements. At CGI, these considerations are a part of my job – I don't have to put aside my personal ethics and morals when I log in to work. Although individuals actions do make a difference, real change requires corporations to change their behaviours. No Planet B is helping CGI reach its net zero targets, engaging members in climate discussions, and changing their behaviours, with the goal of being greener both in business and our personal lives." - Natalie Jones, Configuration Management
"CGI is at the forefront of seriously moving the rhetoric and making people aware of our carbon footprint and reducing it both in and out of work. With No Planet B, we've built a collaborative group environment where we can deliver innovative initiatives to CGI members that meet wellbeing objectives at the same time as neutralising our combined carbon footprint. These days, I always recycle, have a permanent fabric shopping bag, cycle and run to get around and use a CGI bottle for tap water. I'm also improving our office facilities for showering, secure storage etc., to encourage more members to cycle, walk or run to work." - Simon Read, Vice President
"No Planet B's endeavours fit very well with CGI's core values of responsible practice and giving back to our communities. For me, space technology is my passion, and its application has phenomenal potential to reduce humanity's impact on our planet. By joining discussions within CGI and with our clients, our No Planet B activity has given me visibility and the support to create great initiatives such as our Project Seagrass activity". - Stephen Vance, Director
"I jumped at the opportunity to be involved with No Planet B. All of the work we're doing is aligned to CGI's net-zero roadmap, focusing on key areas such as member travel, nature-based solutions and client engagement. It's made me think more about the simple things in everyday life, too. For instance, when I'm out shopping, I look at what something is made of or packaged in, I don't buy single use plastic items and I try to purchase products that are sustainable." - Gareth Dawkin, Server Virtualisation Engineer
"I love to show the different ways that ordinary people can contribute to reducing their carbon footprint. Among various CGI initiatives in this area is its active support for members to use alternative modes of transport. We have set up Cycle to Work schemes, help our members to purchase electric vehicles, and offer benefits when they choose environmentally options." - Shanthiprasad Amirthasagaran, Senior Project Manager
Proudly reaching our sustainability goals
"Being a member of No Planet B has given me the confidence to call out any behaviours, processes or activities in any part of CGI that do not align with the No Planet B philosophy, because I know the wider group and our senior management are taking this all very seriously.
I am also really proud of the member engagement I've generated through articles I have written, including my 'Sustainability at Home' series during the 2020 lockdown. I discussed the issues I am passionate about and shared my own tips and hints, and people were really receptive to adopting those new habits in their own lives." - Natalie Jones, Configuration Management
"Coming from a scientific background, I see the ways we can harness nature for good in all parts of life. The bottom line is we need to be working with nature rather than against it. To that end, I'm proud of the work we have done with tree planting and the awareness we have brought to members through tools such as Pawprint and Know Hows. I'm also proud of how collaborative everyone has been right across the company in sharing their skills and knowledge to help us all learn to be more sustainable." - Maya Spence, Consultant
"No Planet B managed to get Mr. Alok Sharma (COP26 President) to visit CGI and we were able to show him first-hand our climate initiatives and how our sustainability plans will help us reach net zero by 2026 – a very proud achievement! We've also got recycling initiatives in full swing at our offices, recently cleaned up a local area as part of our Litter Pick team, and are looking at making an EV Car Share provider a part of our benefit package." - Shanthiprasad Amirthasagaran, Senior Project Manager
"Getting Project Seagrass off the ground is what I'm most proud of so far. We now have an algorithm able to sense seagrass using ESA earth observation data, which will reduce the overhead of cataloguing and protecting seagrass meadows in the UK. Did you know seagrass is up to 35 times better at consuming CO2 than rainforest?" - Stephen Vance, Director
"When No Planet B started, we conducted a plastic audit across the CGI estate and found a number of items that could be removed. We researched a lot of new products and suppliers and ended up sourcing better alternatives, one of our most significant achievements yet." - Gareth Dawkin, Server Virtualisation Engineer
"CGI and No Planet B are creating real change. As an example, with collective minds we are forging ahead with reducing car usage by encouraging our members to convert to electric vehicles, use public transport, and to cycle/run/walk to work by improving showering and secure storage facilities at our offices. We also have various projects underway to directly affect the wider planet, such as Project Seagrass and tree planting etc." - Simon Read, Vice President
Full steam ahead: Our goals for 2022
"We're going to be organising sustainability competitions, more tree planting, and litter picking team building activities, and introducing plant-based food to our canteens, vending machines and food vans. We're also promoting eco-travel options with things like EV experience days to motivate people to use more sustainable forms of transport." - Gareth Dawkin, Server Virtualisation Engineer
"Some primary objectives for No Planet B in 2022 include identifying client partnerships where we can work together protecting local environments; leveraging Project Seagrass as a key tool for preserving the UK's seagrass meadows; and sharing our excellent use of technology like earth observation satellites to highlight or improve broader understanding of environmental issues." - Stephen Vance, Director
"We intend to facilitate many Know Hows, podcasts and other knowledge-sharing activities across the business, run initiatives around restoring our ecosystem (for example, bees and wildflowers), support global events like #WorldEnvironmentDay, and create a catalogue of sustainable gift ideas for members to refer to." - Maya Spence, Consultant