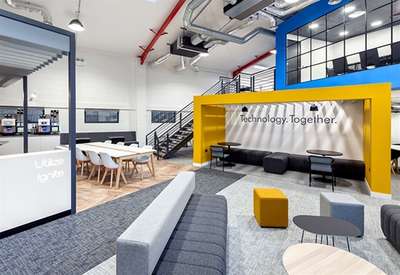 Application: Office
Sector: Refurbishment
Contacts:


Design and build specialists: Oktra
End-customer: Utilize PLC

Location: Basildon, Essex
Products installed:


2 N° Daikin VRV Heat Recovery Systems
2 N° Alpha Split Systems
6 N° Daikin VAM_FC Total Heat Exchanger Ventilation Units
Daikin Cloud Remote Package
Additional mechanical services including sanitary ware, extract and tea points
Utilise PLC, an IT support organisation of over 20 years, recently opened a new head office in Essex. They engaged Oktra South to provide a complete renovation of an existing warehouse for conversion to a high-tech office space.
Monodraught are an award winning Greentech company. We provide high performance competitive systems with low running costs. Our role in this project was to supply, deliver and install a complete mechanical package. This included two Daikin VRV Heat recovery systems, two Alpha Split systems to the comms room and a full ventilation solution using VAM total heat exchangers. In addition, Monodraught supplied and installed all sanitary-ware, toilet extract and tea points, completing the mechanical services package.
All systems are monitored with the Daikin Cloud remote package to provide real-time data, which has proven energy savings up to 34%. This way it is possible to identify cost saving opportunities, increase the lifetime of the equipment and reduce the risk of unexpected issues (i.e. performance reduction due to a refrigerant undercharge in the system). The system data is collected and stored centrally on an ongoing basis. The data is available whenever needed for product evaluations and to provide valuable information about the operating state, reliability and efficiency of the systems.
Monodraught supplied and installed two VRV IV Heat recovery condensing units connected to a series of medium static concealed ducted and 600x600 fully flat cassette indoor units, controlled through the Daikin intelligent touch screen controller. The systems were selected due to low running costs, on account of the fact that each system can be controlled individually, so that only those rooms that require air conditioning can be heated or cooled. Systems in the rooms where no air conditioning is required can be shut down completely. Inverter control compressors allow control over the refrigerant volume so that the capacity matches different loads in each individual room, eliminating unnecessary energy use. All inverter compressors allow precise refrigerant temperature control, adapting the VRV to the building and climate requirements.
Two dedicated Daikin Sky air Alpha-series wall mounted split systems were installed in the comms room. They are ideal for this application thanks to the EDP setting which allows constant cooling at low humidity levels, maintaining ideal conditions for computer equipment. An automatic airflow volume control function adjusts fan speeds to match differences between room and set temperature.
A series of Daikin VAM-FC/J Total Heat Exchanger ventilation units ensure high indoor air quality. These units are designed to recover waste energy from the exhaust air stream to minimise client running costs and further reduce the carbon footprint of the building.