ASMPT
We are the leading global supplier of hardware, software and service solutions for the integrated smart factories of our global customers in the semiconductor and electronics manufacturing industry.
We are the only company in the world offering a comprehensive portfolio of solutions for all major steps in electronics manufacturing – from carrier for chip interconnection to chip assembly and packaging to SMT. No other supplier offers a comparable range and depth of process expertise.
Automation and digitalization: whether in industry, mobility, healthcare, communications or entertainment - there is hardly any sector in which ASMPT equipment is not used for manufacturing. We have become the enabler for the digital world.

We want to help make our world a better, safer, more comfortable and more sustainable place. To this end, we offer our customers complete, networked and highly integrated hardware and software solutions and are at their side as a competent, long-term partner when it comes to setting up their Smart Factories.
ASMPT SMT UK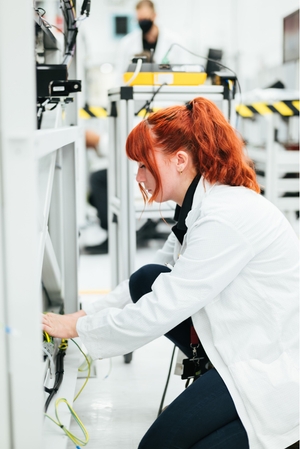 ASMPT SMT UK is one of ASMPT's Product Line Innovation Centres for the SMT Segment. Working here, in Weymouth, is a unique experience.
Our technology powers EVERYTHING that has a digital component: we produce the innovative equipment that enables the world's biggest names in electronics to bring their technology to market. So we also enjoy a forward-thinking environment where continuous investment powers opportunities to work on exciting new projects on a global scale.

We're worldwide, we're not particularly hierarchical and, most importantly, we're a team. In fact, you could say, we're a family - enjoying an informal, friendly corporate culture that you just won't find practised by many technology leaders.

It's an exciting place to be. Ideas evolve in front of your eyes and we're constantly pivoting and adapting to meet the needs of tomorrow's technologies.
The possibilities here are limitless, the opportunities are huge and our culture is warm and friendly. We think you'll enjoy the level of influence and exposure you'll find here.