Accredited Laboratories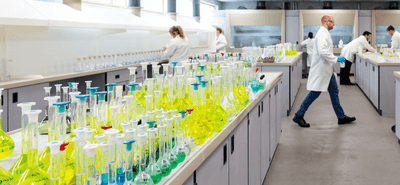 We operate a global network of accredited laboratories, specialising in the commercial analysis of metals, minerals and solid fuels. We also specialise in production analysis, physical testing and sample preparation of these materials. Our high standard of technical expertise, many years' experience in classical analysis and investment in the most sophisticated instrumental techniques enables our laboratories to provide fast and efficient service.
Global Excellence
As our Group's principal commercial laboratory and sample preparation facility, the John Knight Laboratory has held ISO/IEC 17025:2005* status since 1999. Our laboratory serves as a quality control centre and benchmark for our group laboratories. We achieve this through our quality principles to UK standards and continuous external quality control proficiency exercises.
*A UKAS accredited testing laboratory 1543.
Experts our clients can trusts
Our qualified and experienced chemists are supported by our Group Quality Assurance Department and our Group Research & Development Department. Combined with our continued investment in equipment, technology and personnel, we ensure our clients benefit from fast, accurate results through constant improvements in efficiency, measurement techniques and quality.