Why technology?
Musk, Zuckerberg, Bezos vs Blankfein, Gorman and Dimon - technology has won!
Starting your career in software or data opens up every industry and a huge number of high performance career options - don't discount the benefit of a rising tide lifting all the boats.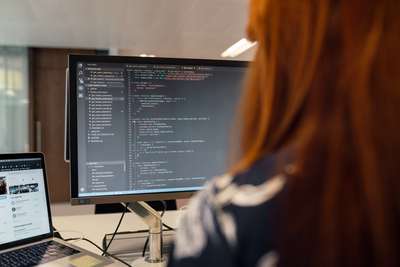 So why us?
Judge us by what we say and do: start with how many companies tell you about their competitors;
We are not set up by or owned by a headhunter or recruiter. We are not salesmen.
We have worked at and our investors come from some of the world's most renowned companies, from BCG & McKinsey to Unilever, The Guardian and Google. We are all interested in high performance;
We are a start up education b-corp that invests in people through world class training: this does not mean we'll teach you what you want to learn, for example if you are certain that you only want to become a 'full stack java developer', then we're not right for you. We focus on software & data engineering and high performance professional skills that will enable you to excel longer term in many roles. As you excel, our clients excel and we recover the cost of the training.
Who we're looking for
The key is not the subject but that you do these things yourself. This is how you would honestly describe yourself:
The Problem Solvers: logical, mathematical, scientific, philosophical, artistic, human...you name it;
The Curious: you're a self learner - from science fiction or plants to languages or crypto. You're interested;
The Communicators: this doesn't mean charisma. You put effort into being understood;
The Persistent: you don't get phased by challenges. You know not to give up;
The Conscientious: you do great work for other people - a combination of ambition, work ethic & niceness.
Eligibility Criteria: you must have…
Economic: at least one of the following: grown up in a household with income <£43k, attended a non-academically selective state school, been eligible for free school meals or local authority care;
Education:

2:2 or higher. The subject isn't as important as being a good fit for what we're looking for; or
if you didn't get a 2:2 or better (but still graduated), then you received at least an A or B in one STEM subject. We need to know that you're ok with numbers and enjoy solving problems;

Right to work in the UK: UK Passport, EU/EEA Settled Status, Indefinite Leave to Remain (unfortunately we cannot sponsor Visas).
What we Offer:
The Training: a free 12 week intense programme covering software & data engineering: JavaScript, SQL, data science (Python, pandas, regression analysis), HTML/CSS, ES6 & React, and best practise industry fundamentals (Object Oriented Programming -OOP-, Test Driven Development -TDD-, agile methodologies). As important are the personal skills around high performance professional behaviour (built on modules from Bain, McKinsey and BCG, from interviewing & growth mindset to commercial problem solving);
The Role: our aim is then to employ you on our technical graduate programme (in either our software or data track) on a £30,000 salary, where you will work alongside one of our clients for 2 years helping them solve real world problems. This critical hands on experience will be supported by ongoing technical & professional development & mentoring;
The Goal: at the end of the 2 years, you'll join our network: >100 senior managers at some of the world's leading organisations, all committed to help Sigma Labs alumni. You should be able to earn £40,000-£50,000 at this point.
We've signed the Gradcracker feedback pledge.
(This means that we will supply feedback if requested after an interview.)
1e127ede32d8f816eacfb0aed73cee11