Apply without coding experience and Free to Train
Whether you've always been interested in technology, never considered it before or you're not sure what you want to do, starting your career in tech is an incredible way to launch a meaningful and interesting career aimed at the very top;
We provide world-class full-time training in software development and data engineering, followed by 2 years of employment working alongside one of our leading clients.
Our mission is to launch the careers of new leaders who come from backgrounds where leaders are rarely sought.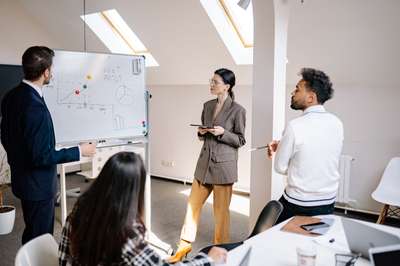 What makes us different? Care through Performance
We really care about what we do and how we impact others. We are not satisfied with being average and nice, we want to go the extra mile. Feedback at every assessment stage? Tick. Low coach-to-trainee ratio? Every time. Regular coaching throughout your time as a consultant? Take that to the bank. Candidates, consultants and clients all agree, caring is at the heart of what we do and why we do it.
We also believe in "performance in the moment", making the most of every opportunity that comes our way. Our team members have excellent track records at world-class companies, but that counts for little compared to the pride we take in seeing each other doing the best we can day in and day out. That will include you. If you think we can perform better then let us know and we will continue to challenge ourselves to care more through better performance.
Our Offer/Benefits
12-16 weeks of proven high-quality training followed by work with a London-based client using technology to make a positive impact;
Learn a wide range of skills that are in high demand;
Consistent reinvestment in your training and ongoing support through low trainee/coach ratios, regular 121s and high-performance mindset coaching;
Professional and business skills training to allow you to make a mark throughout your career and not just on Day 1;
We'll coach you through the hiring process so you start learning now;
No need to ask for feedback - we always share feedback at every stage of the hiring process;
Remote-first learning and hybrid working;
Travel costs covered during hiring and training;
Laptops provided throughout training;
Private health insurance;
Access to a range of accredited courses.
Who we're looking for
You'll fit right in at Sigma Labs if you:
see a job as an opportunity to learn and make an impact, not just a destination;
love to learn and not scared to try;
value collaboration to reach your goals;
will go above and beyond to be a difference-maker.
You don't need to know how to code to apply - we'll support your learning throughout the assessment process so you are ready from the start of training.
As a B-Corp (pending), our mission is to provide exceptional training and opportunities for outstanding talent from low income backgrounds. To achieve this, our goal is to have an equal gender balance and a diverse range of backgrounds. But we're not a charity; regardless of your background we will only accept you based on your performance through our process and how you respond to our support.
Eligibility: Applications will be considered on a case-by-case basis based on the following. You must have:
Economic: at least one of the following applied to you between the ages of 11 and 16: grew up in a household with a total annual income of less than £43k; attended a non-academically selective state school; were eligible for free school meals; or received local authority care. We will also consider those who received university benefits. We do not accept applications from anyone who attended a private school in the UK or abroad.
Education: received, or expect to receive, at least a 2ii from a UK university in any multi-year degree. If you did not receive a 2ii or above but still graduated, we will consider you if you received at least an A in a STEM A-level;
Right to work in the UK: you must be able to work in the UK for at least 3 years after starting. Typically this means that one of the following applies: have a UK passport, EU/EEA Settled Status or Indefinite Leave to Remain (currently we do not sponsor visas).
The Key Facts
The Training: a free 12-16 week intensive programme covering software and data engineering: from JavaScript, SQL and Python to industry best practices (OOP, TDD and Agile). Equally important, we include training in high-performance personal and professional behaviour (from interviewing to problem-solving);
The Role: after training, our laser focus is to place you with a client and employ you starting on at least £30,000 p.a. You will work with our clients for 2 years to help them solve real-world problems while we continue to develop you technically and professionally. If we fail to find you a role with us, we will still try and help you find a role somewhere;
The Goal: at the end of 2 years working for us, you will join our network which includes 100 senior managers at some of the world's leading organisations, all of whom are committed to helping Sigma Labs alumni in the long term. You should be able to earn £40k to £50k at this point;
The Location: the training is largely remote, but we will bring you to our central London office for a few days at the start to get to know each other better. All of our clients are London based and therefore our consultants will have to move to London once placed with a client;
We've signed the Gradcracker feedback pledge.
(This means that we will supply feedback if requested after an interview.)
1e127ede32d8f816eacfb0aed73cee11