At Heathcoat Fabrics we strive to be bold and dynamic in everything we do. We are ambitious and not afraid to experiment and push boundaries within our industry.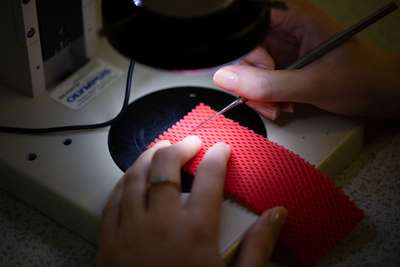 Our highly specialist products are manufactured for use in the Automotive, Healthcare, Defence and Aerospace industries, to name a few, and we rely on the creativity, skill and dedication of our people to contribute to some of the most innovative fabric making projects in the world. We are committed to ensuring our people have the skills and confidence to excel in their field and provide opportunities for progression at all levels.
We have a number of exciting opportunities within our Technical Team for Product Development Graduates.
About the department and the role
We are looking for recent graduates or those with industry experience who are driven and ready to start their career with us. Product development involves constant research, learning and creative thinking.
Over the course of the 2 year programme, our Product Development Graduates will work within the Technical Team to shape our future business. Initial training includes an extended period gaining knowledge of our production capabilities, processes and testing facilities. This under-pins an inherent creative nature to enable product realisation.
The role includes travel for supplier, customer, tradeshow and institution visits where market needs are assessed, understood and solutions are developed. Travel is key to broadening horizons and taking the business forward.
Our Graduates are our people managers of the future who want to make a difference and have a strong desire to deliver continuous business improvement.
The ideal candidate will have a passion for innovation and/or technical textiles and will have the opportunity to be involved in the creation of new products across our markets. The successful candidate will be an ambitious individual with a strong drive to develop their career path within the Company and who has the potential and motivation to develop solutions for customers.
You will need to have the Right to Work in the UK and be able to provide evidence as part of the application process.
Skills, knowledge and experience required
A strong desire to learn and develop
Excellent verbal and written communication skills
Strong attention to detail, organisational and project management skills with the ability to problem solve
Good knowledge of Microsoft Office programmes
Able to work on own initiative
Degree or equivalent qualification in a relevant degree, preferably in Textiles, Engineering or Science
Experience working in a team
Understanding of fibre/polymer performances
Ability to analyse and act on data setts in a methodical manner
Right to Work in the UK
Benefits
Competitive salary
Profit Share Scheme
Enhanced Pension
34 days' holiday pa
Techscheme and Cycle Scheme
Local shops and services discounts
Training and development opportunities available
We've signed the Gradcracker feedback pledge.
(This means that we will supply feedback if requested after an interview.)
1e127ede32d8f816eacfb0aed73cee11