Digitalisation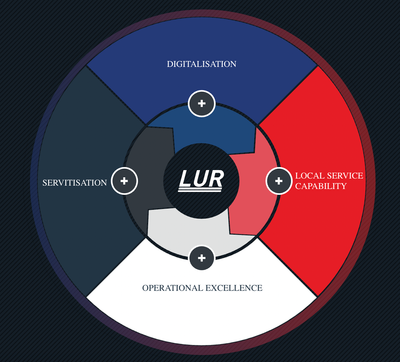 LUR has developed an approach to move from the traditional transactional methodology to a digital-based service proposition.
We will create and convert data into management information to enable a more progressive relationship to be established, allowing more time to focus on product and service innovation rather than the delivery of the product.
LUR's strategy for digitalisation is based on three elements:
Customer-based value chain integration
Customer-based products and services
Company and Group IT
Local Service Capability
LUR's manufacturing, logistics and product development capability is a foundational element of LRS's global business strategy. It maintains a local service element in addition to the technical capabilities and strengths of its shareholders.
A single efficient manufacturing 'hub' in Italy for the 'hot' processes
Local service capability 'spoke' with local knowledge providing final operations and services to local customers which ensures supply chain resilience and security of supply.
Depth of manufacturing and materials knowledge to drive R&D and innovation at the hub to support the local support services.
Operational Excellence
LUR has a philosophy with our shareholders where problem-solving, teamwork and leadership are fundamental in the ongoing improvement of the organisation.
Servitisation
LUR is innovating its organisational capabilities and processes to better create mutual value with its customers through a shift from selling product to selling product-service systems.
We are doing this through the development of our service culture, alternative life cycle based products SmartSet, SAMT and RFID technology to ensure the maximum service to the customer can be provided.
LUR also provide dedicated account management with a strong understanding of our customer needs through experience and communication.