Brunel Tech Society at Aston hack 7
On the dawn of Saturday the 11th of December, we stumbled excitedly out of our beds at 03:00 on our first journey as a society. The night before, we had readily stuffed into our backpacks: laptops, chargers and a pack of energy drinks.
As the sun peeked over the horizon at 05:30, we grouped at London Euston, ready to tackle some problem-solving. After a quick stop at 'Maccies', our group slowly began forming and eventually, we gathered our teams.
Team 1: Akbar, Milosz, Michael
Team 2: Kacper, Lucia, Lauren, Liam
Team 3: Caitano, Marian, Omer, Zain
We were treated to the exquisite economy seats (life of broke uni students) and after a 2-hour London Northwestern Railway journey, we had arrived in the wonderful area of Birmingham Bullring & Grand Central.
Upon arriving at Aston University, we were assigned our lanyards and a bunch of stickers for our morning ceremony. We were introduced to all the sponsors of the Hackathon and our theme was to build a website, app or project that includes some sort of communication.
We took part in many workshops during the event such as team-building exercises; constructing wooden models, cup-stacking challenges, super smash bros tournament, league of legends LANs and party games!
We also attended many skill-building workshops such as "How to create a Discord bot", "GitHub for beginners", "How to make a good submission". We also had a midnight pizza feast and plenty of energy drinks to keep us awake all night!
After 24-hours of hard work, we managed to create fully functioning applications/websites! We eventually presented our ideas at the closing ceremony!
Team 1: Sign To Text
Our winning team researched that many individuals, who lack the ability to speak often, cannot benefit from the current speech-to-text technologies. They developed an accessible app that is capable of translating a variety of hand gestures/sign language into text. They used JavaScript and Python to develop this idea and as well as TensorFlow in order to make the application understand and track the joint locations and movements.
Team 2: How Much Is 2 Much
This team developed an app that provides you with information about how much alcohol a person can consume, based on certain information from the user such as age, weight, BMI, etc. Their aim was to make people more aware of their alcohol consumption limits. The user inputs information such as age, weight, height and the program creates a rough estimate of the 'alcohol allowance'. Thereafter, the user can select what drinks they are consuming and also select the amount (in ml). The app then calculates and outputs to them what percentage of their alcohol allowance they have 'used up'. They built the app in Java, using the Eclipse IDE and a tool called window-builder.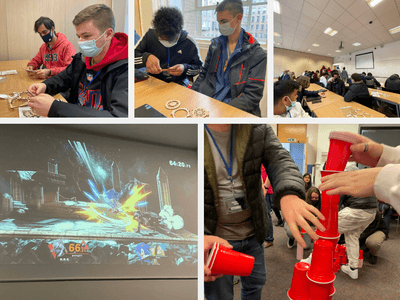 Team 3: What's The Weather
This team discovered how over complicated the biggest weather forecast websites are to use and they developed their own website to simplify the process of checking the weather forecast. They created a sleek, modern website that shows the weather according to your geolocation. They used javascript, HTML and CSS3 to create this as well as node.js and a weather API. There were many features they would have liked to implement, however they were limited on time.
The results:
The winning team from Nottingham was 'Network over Rube Goldberg Machine' who created a project where they "transmit data over unique and innovative layer 1 transport methods". This was implemented with a "large amount of Raspberry Pi Pico microcontrollers all attached to a corkboard"! They received 144z gaming monitors as prizes!
Our team from Brunel 'Sign to Text' landed 2nd place and received 4 SteelSeries gaming mice as prizes! We also won a squishy avocado for discovering the most insecurities in a website during the 'Bobby Tables' workshop!
Conclusion:
For all of us who attended, this was our first Hackathon and we all successfully created a project which is a huge accomplishment for us!
I would like to congratulate all the teams who attended and presented amazing ideas as well as the sponsors, the Aston Computer Science Society for being wonderful hosts and HackathonsUK for leading many workshop activities!