Pioneers of Airborne TETRA, LTE for Mission Critical PTT, top performing Anti-Jam GPS, Direction Finding and Electronic Warfare. Chelton has decades of experience working on avionic standard communications, navigation and electronic warfare equipment.
From TETRA systems with 80,000 parameters and crypto management software, to beamforming Anti-Jam GPS with conformal CRPAs. EW pods to train NATO to fight the bad guys, and Direction Finding systems to bring the good guys home.
Anti-Jam GPS Systems and Assured PNT Technology
With our anti-jam GPS Systems and Anti Jamming technology, there is no compromise. Our end-to-end Assured PNT solution is the answer to identifying and eliminating threats.
Chelton has been developing battle-proven anti-jam GPS and anti-jam GNSS solutions for high performance fixed and rotary wing platforms for over twenty years.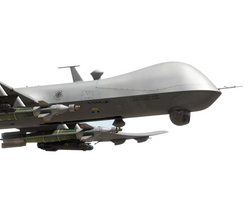 We pride ourselves in providing a complete end-to-end Assured PNT solution compromised of antennas, processor, and software, all individually tailored to the needs of each platform.
The Anti-Jamming system choice of the US Army
Chelton has been selected by General Atomics Aeronautical Systems, Inc. (GA-ASI) and the U.S. Army to provide the anti-jam GPS systems for the MQ-1C ER Gray Eagle Extended Range (GE-ER) Unmanned Aircraft System (UAS) platform.