Trayport has a strong history of recruiting graduate candidates and progressing them throughout the business. As a result of this success we set up our first Graduate Programme in 2013. Daniel (Business Systems) and Osman (Technical Client Management and Support) have now been with the business 18 months having been the first Graduates to take part in our Scheme. Niraj (Internal Support) and Joel (Technical Client Management and Support) joined the 2014 intake. In an interview with Recruitment Manager Brendan Hughes, they have given their time to tell us about their experiences of joining Trayport.
Brendan:Thanks guys for taking the time to speak to us today. As you know I'm passionate about bringing Graduates into the business and watching them progress. So to start with, what was it that attracted you to Trayport?
Joel:For me I love trading and technology so as a business Trayport ticked those two boxes.
Niraj:I was in a role but the chance to get more exposure to the Networking side really appealed. I liked the fact that as a Graduate you weren't going to be just a number. When you rang me Brendan and explained the process and opportunities for my career, it was pretty exciting.
Osman:I was wanting an entry into IT, somewhere where I could progress and develop myself. I'd been to a couple of other interviews but walking into Trayport and seeing the culture really appealed.
Dan:I agree. When you walk in and see the open space, the open plan office, the break out space and everyone seeming so friendly, it real appeals as a place to work.
Niraj: It's definitely friendly. People are always willing to help and share their knowledge. I like the fact you get to know people in all functions.
Osman: The free breakfasts are a great way to chat to people across the business. I think we have it pretty good here.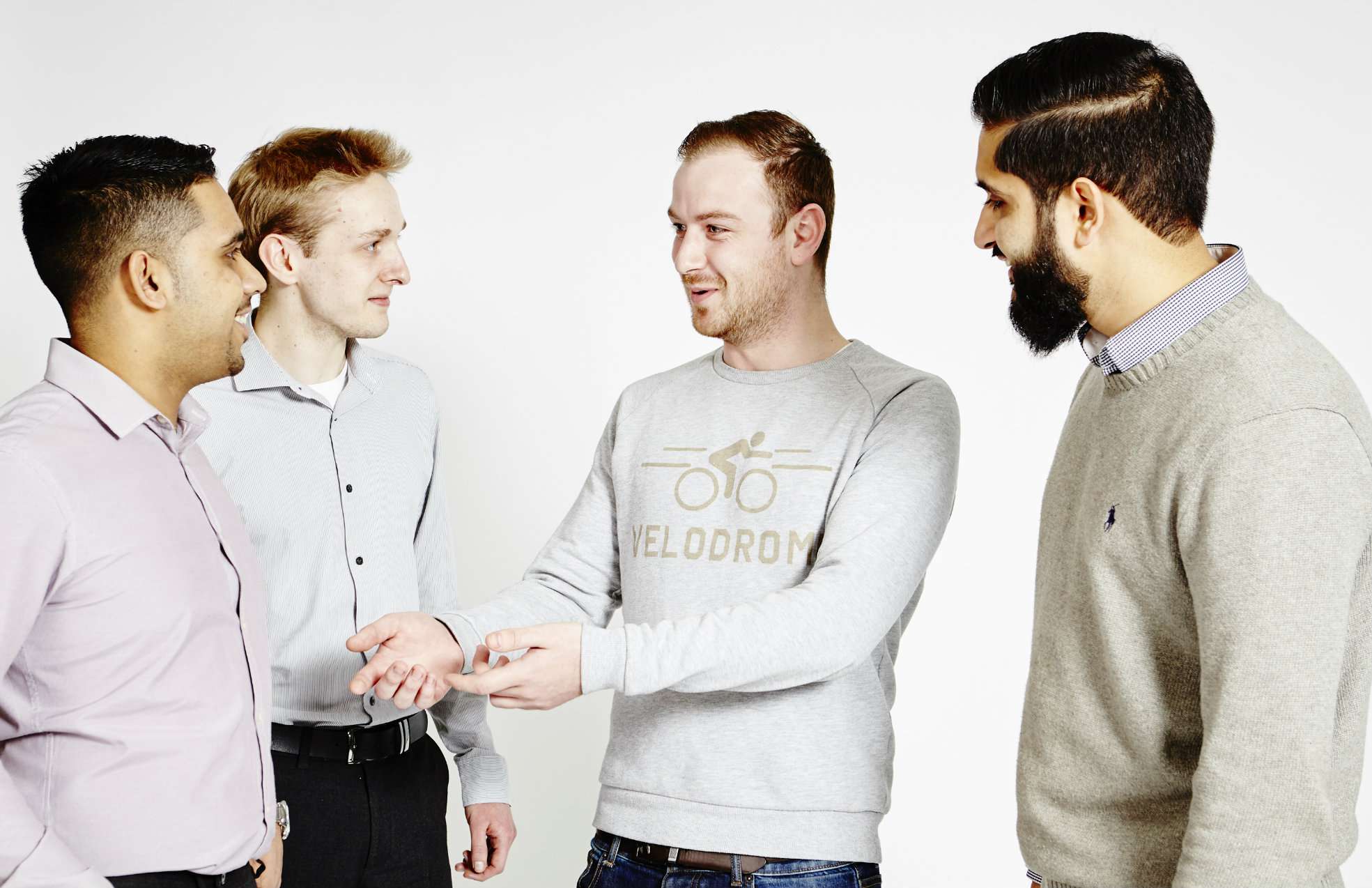 Brendan: The Assessment Day is something we have invested a fair amount of time into. How would you describe it?
Joel: Seems so long ago now
Niraj: Come on, it was only nine months!!!!
Joel: Ha ha, seems longer. It was pretty thorough. I remember there being two tests and a couple of interviews. It was good fun though.
Osman: I remember the lunch and you being really tough, Brendan!!!
Dan: It did give a very good overview of what to expect in the role. Everyone was friendly and enthusiastic about Trayport.
Brendan: And what about the Training programme?
Dan: It was really good. We got a chance to rotate and learn about different parts of the business. I'd never had any experience with Trading before so it was really useful.
Osman: I agree, the rotation was great. We had Mo as out Mentor/Buddy. He was always available to help whenever we needed it.
Brendan: What have you most enjoyed about working at Trayport
Osman: Has to be the people and the relationships. Helps so much when you're on the job.
Niraj: me too, the people are great. There's so much knowledge in the business and everyone's so keen to help
Dan: I think for me the work life balance is great. My Line Manager lets me come in early and leave early to miss rush hour. I know not every team is like this but for me this works well.
Joel: The size is good. Not too big that you're just a number. You get to meet people all over the business. The company weekend away in Gibraltar helped for meeting people
Dan: yeah, that was amazing. I don't know any other companies that do that.
Brendan: What about the free breakfast and Coke.
Niraj: That's pretty good but I don't drink coke!!. Perhaps you could organise a few beers Brendan.
Brendan: Don't think I haven't tried.
Brendan: So what suggestions do you have to prospective Grads about being successful in Trayport
Dan: You need to be prepared to roll your sleeves up and work hard. There are a lot of opportunities if you put the work in.
Osman: I think I've seen about 4 or 5 people get promoted into new roles from my team since I've been here.
Niraj: You need to be prepared to deliver. You also need to think about the clients first and the best way to service them.
Joel: I think it's a case of taking advantage of everything that is happening. I've been to Film Night, the weekend away in Gibraltar, Gaming Night and all the socials. There's so much going on.
Brendan: So I guess Joel for you the culture is important. How would you describe the culture at Trayport?
Joel: It's very social and while everyone's really friendly and inclusive, you do need to put yourself out there.
Dan: I like the fact it is a mix between corporate and casual. It's best of both worlds.
Niraj: The people are very friendly and want to hear your opinions. Even though I'm a Grad without much experience, I feel like I can contribute to decisions.
Osman: When I was looking for jobs, I didn't think about culture much but having worked here for 18 months now and talking with friends on large grad schemes where they are just a number, I've realised how important it is.
Brendan: and finally from me, any regrets about coming on board?
All: No