The Graduate Programme
Graduates are placed on a structured 24 months' development programme covering the whole project lifecycle from start to end.
Objective: Ensuring that the participating graduates are comfortable with Ardmore's commercial processes by providing them with continuous on-the-job training, seminars and generally helping them to gain a better understanding of these processes.
Graduates will also be expected to take part in a rotational programme, encouraging graduates to work with other important cogs of our business. These will include Project Management, Civil Engineering, Pre-Construction and Design amongst others.
Outcome: Successful completion of the programme will help participants to achieve QS status.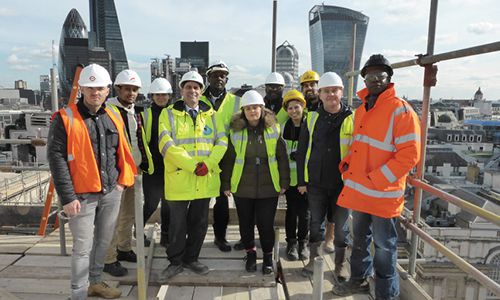 Structure:
Every graduate will have a tailored programme
You will undertake quarterly reviews every 3 months is to be held with the attendance of the HOD, Graduate and L&D Manager
Graduates will have access to other technical seminars and professional qualifications including RICS
Professional Development: Ardmore will support your professional development by encouraging you to apply for your chartership with RICS, and offering you a wide variety of work and projects in order to gain experience required to achieve this. You will be supported by an internal RICS mentor and chancellor.
Key Areas of Responsibility:
Comply with and help promote the Health and Safety policy;
Compliance with all company procedures and protocols;
Assist the commercial department in the delivery of confirmed project tasks and goals;
Provide appropriate assistance with the procurement of Sub-Contract; Consultant and Supply only work packages;
Measurement/take off building materials quantities, produce schedules and preparation of bills of quantities for use in the procurement process;
Record keeping and filing;
Assist in the evaluation of payments to be made to Sub-Contractors, Consultants and Suppliers;
Prepare and co-ordinate labour only payments;
Where appropriate and requested attend and take minutes of meetings;
Integrate and liaise with the site team.
Requirements:
Min 2:1 BSc in Quantity Surveying or Commercial Management Quantity Surveying
Proficient use of MS Office
CSCS card
Previous experience on site advantageous (work placement / summer placements)
In addition, you will–
Have a good understanding of team dynamics and will support people in the team to achieve shared goals
Be self-confident and articulate, with strong negotiating and influencing skills, and ability to build rapport both internally and externally
Be resilient and work successfully under pressure
Be self-disciplined, and organised with well-developed time management skills.
1e127ede32d8f816eacfb0aed73cee11