Two new leisure centres in Barnet have opened to the public with state-of-the-art facilities. Barnet Copthall has competition, community and learner swimming pools, a sports hall, extensive contemporary gym facilities and health improvement rooms. While, Barnet Leisure Centre also has a community and learner pool, alongside a health and fitness suite, health improvement rooms, a library, tennis courts and multi-use games area.
Use of BIM for lean, sustainable solutions
Working with the main contractor, Graham Construction, and sub contractor MSL Engineering Ltd, Bryden Wood made extensive use of BIM to solve the complex challenges to mechanical and electrical (M&E) engineers, such as heating large spaces, solving significant air handling challenges, mitigating the risk of condensation from the pools and managing CO2 levels efficiently in exercise areas.
Collaborative working
Bryden Wood built a detailed BIM model for M&E, which was key to effective collaboration between all stakeholders from contractors to the client, Barnet Council. The virtual environment made it clear how a design detail or proposal would look, and fit, as you can see from the images. More importantly still, it showed all stakeholders how different systems and proposals would perform, allowing many different solutions to be evaluated, so that the best one could be found.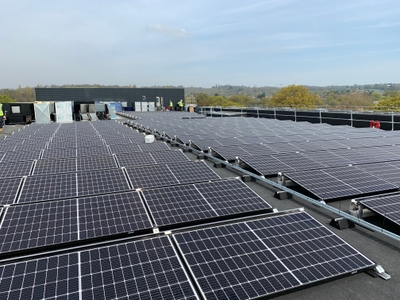 Optimised energy use
Extensive environment modelling and energy analysis in the model was used to optimise energy use. Carried out by Bryden Wood's CIBSE accredited Low Carbon Consultants, it encompassed all key variables, such as air flow, condensation levels, and heat sources. The energy efficiencies achieved through different design iterations can be seen in the chart.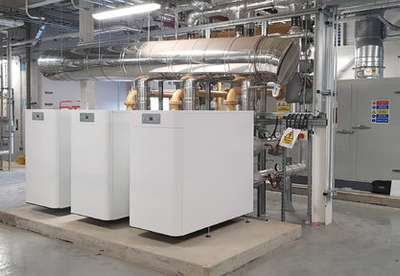 After testing in the virtual environment, Photovoltaic (PV) roof panels, and Combined Power and Heat Units (CHP), were identified as the most efficient energy solutions.
CHPs deliver clean, low-carbon thermal and electrical energy, and were carefully sized to match the building's electricity and hot water usage. In Barnet Copthall, CHP alone reduced carbon emissions by 91.1 tonnes pa; and by 56.7 tonnes pa for Barnet Leisure Centre.
Intelligent air handling
Air handling systems were designed to use as little energy as possible, whilst ensuring a healthy, fresh indoor environment. So demand control ventilation, activated by CO2 sensors, provides an optimal level of fresh air in fitness areas. And in the same way, an advanced, mixed mode system with Building Management System control, ventilates the sports halls.
By using low energy passive ventilation for periods of lower use, but powerful mechanical ventilation at peak times, it minimises energy consumption whilst maximising the comfort of users. Occupant thermal comfort modelling demonstrated that mechanical systems were able to keep people at a comfortable temperature, whatever the weather. This gained HEA04 BREEAM credits, and contributed to the projects' BREEAM Very Good rating.
A-rated energy performance
All of these design features helped to achieve exceptionally low carbon emissions, with both centres achieving A rated energy performance certificates. Barnet Copthall has an Asset Rating of 20 which exceeds the requirements of Part L2a, and delivers CO2 emission reductions of over 37% when compared to the target building. They are good examples of projects that follow the "Be Lean, Be Clean and Be Green" guidelines in the London Plan Energy Hierarchy.
Managing condensation
The spaces between heated, humid, pool halls and cooled gyms, or external areas, are particularly challenging. Condensation can cause staining or mould growth on the building fabric, and saturate insulation layers, degrading their performance. There are also health and safety risks from mould spores or people slipping on surface water.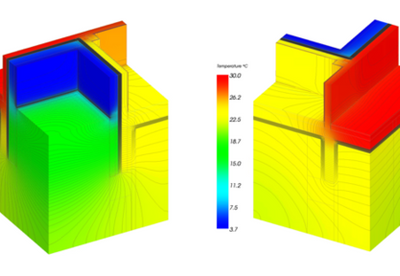 Working closely with Grahams, MSL and Saunders Boston, Bryden Wood used AnTherm software along with finite difference numerical modelling, building thermal modelling and probabilistic weather data, to assess condensation risk. As a result, design changes could be made to reduce condensation.
As these two excellent new facilities open their doors, the communities that they serve can feel the benefits of a well-managed indoor climate, and the client can be confident that they have assets that manage energy.