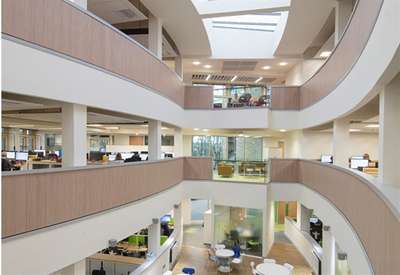 Sector: Government/Council
Contacts


Architects: Farrell & Clark
Consultants: Ramboll
Construction: Harry Fairclough Construction Ltd
End-customer: Harrogate Borough Council

Location: Harrogate, Yorkshire
Products installed:

30 N° Monodraught COOL-PHASE® systems
2N° 1800mm WINDCATCHER® Classic Bespoke Circular GRP Systems
1 N° iNvent Controls.
Monodraught were specified to provide natural cooling and ventilation to all areas in an open plan office arrangement, whilst a central atrium space is ventilated by our bespoke ventilation system. Monodraught provided 30 N° Cool-phase systems and 2 N° Windcatcher Classic bespoke circular GRP systems.
Monodraught's Cool-phase systems contribute credits towards BREEAM standards for sustainability across a variety of factors, including credits for lifecycle costs, indoor air quality and for the use of low and zero carbon technologies. In 2018 Monodraught won the Queen's Award for Enterprise, Innovation for its Cool-phase systems.
Cool-phase is a low-energy cooling and ventilation system that creates a thermally comfortable, fresh and healthy indoor environment by monitoring internal air quality and ensuring there is a supply of fresh air. The Cool-phase system is energy and carbon saving, it uses an energy efficient variable speed fan with no compressors, pumps or other energy intensive components. A 5A single phase mains supply is all that is required.
Natural ventilation brings a steady supply of fresh air into the civic headquarters, maintaining CO2 levels and expelling stale air to the atmosphere using the natural buoyancy of thermal forces.
Monodraught natural ventilation and cooling systems have proved to be consistently effective and reliable over many years. The constant reporting and feedback to Monodraught's dedicated R&D team enables our products to be improved in their manufacture, aesthetics and performance.