Get to know us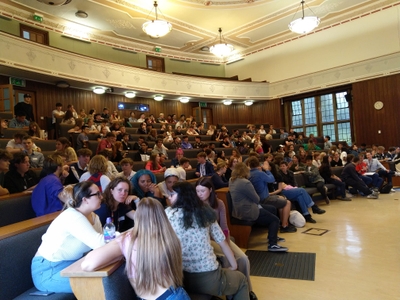 We have a strong focus on maintaining a supportive community for physicists and those interested in physics, facilitated by a wide variety of social events such as quiz nights, bar crawls, laser tag and more. Physball, our flagship event, has remained hugely popular, serving as a fantastic way to celebrate the end of TB1. Physbar, our volunteer-run coffee shop, has continued to serve as our main daily social hub, also serving as informal setting to chat with lecturers.
Our academic offerings have strengthened in recent years, with regular academic talks and careers events. One major success was our virtual international conference which saw several guest speakers from around the world engage with our members on a wide variety of topics.
Our astronomy events have continued to be popular, particularly our stargazing events facilitated by our high-end telescope, serving as a fantastic introduction to our academic events each year.
We also run several trips, past ones including CERN, Štefánik's Observatory, JET and Hinkley Point. This year we are excited to be working with the Faculty of Science and other science societies to run a summer competition where participants work in teams to solve industry problems and pitch their ideas to a panel of industry experts.
Equality and Welfare ensures everything we do is inclusive and accessible. Our parenting scheme provides first years with connections in older years for any queries they may have, from social to academic concerns. We also have several networks including: BME, LGBTQ+ and Women's.