Formula Student Competition
The core challenge of Formula Student is to build a single-seater racing car in order to compete in a series of tests which showcases the vehicle's performance in different scenarios. The competition combines the need for innovative engineering, careful project management and organised teamwork in order to see the production of a working prototype. The prototype is judged in a number of dynamic events;
Acceleration
In addition to these events, each team must also present a business case study in order to prove that apart from being technically sound, their ideas are also financially sound and could be made into a sustainable business.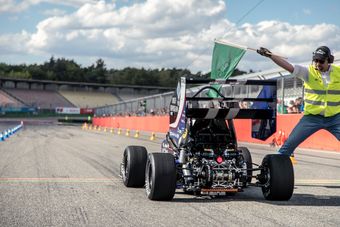 The UK Competition is currently held at Silverstone, usually the weekend after the Grand Prix. UBRacing also enters other competitions and in the past we have raced in Melbourne, Detroit, and most recently Hockenheim.
Running a project of this scale requires a great amount of dedication and determination on the part of the students but also teaches valuable skills that could be used in any workplace. To run a successful team, students must not only be talented engineers but skilled business people as most teams function as extra-curricular hobbies, so must be fitted around students degrees.