Formula Student (FS) is Europe's most established educational engineering competition, celebrating its 22nd anniversary in 2020. Each year, Formula Student sees over 100 university teams from around the globe travel to Silverstone to compete in static and dynamic events that will test their preparation and hard work.
The project usually forms part of a degree-level project and is viewed by the motorsport industry as the standard for engineering graduates to meet, transitioning them from university to the workplace.
Each team goes through a rigorous testing process involving the following events: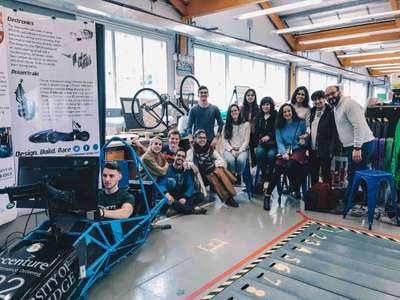 Static Events:
Design, Cost and Sustainability, and Business Presentation Judging
Technical and Safety Scrutineering
Tilt Test
Brake and Noise Test.
Dynamic Events:
Skid Pad (Figure of 8)
Sprint
Acceleration
Endurance
Fuel Economy.
FSUK, FSA & FSG 2022
As our team emerged from the unprecedented challenges posed by the pandemic, we remained resolute in our commitment to building upon past achievements while ushering in a new generation of team members.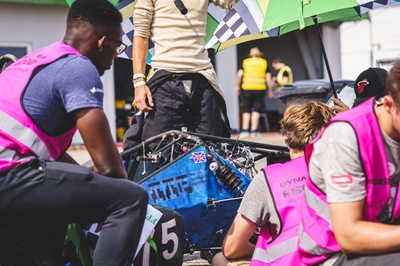 To this end, we allocated our resources with the aim of prioritising not just the manufacturing of a car from components manufactured over a three-year period but also with the aim of providing extensive training opportunities to up-skill our team members.
During the summer, we proudly returned to Silverstone, after a hiatus since 2019, graced the track at Hockenheim for the first time in a decade, and made our debut appearance at the prestigious Red Bull Ring.
While our competition season yielded mixed results, we made a significant leap back into the deep end of Formula Student competition, confronting a series of complex challenges and learning invaluable lessons in areas such as team management and race engineering.
It was only through the hard work of our team members and the support of both of sponsors and the Engineering Department that we were able to attend three competitions for the first time.
FSUK 2020 & 2021
Given significant design and manufacturing limitations during the COVID-19 pandemic as well as the live event being cancelled during 2020, we competed virtually during FSUK 2020 and 2021. This included design, business and cost elements in a similar style to the live competition. During both competitions we took part in a series of interactive Q&A sessions in July across several video calls.
Due to the hard work of the team during two tough years, we achieved positions of 16th (out of 72 entries) and 19th (out of 65 entries; in Concept Class) during the 2020 and 2021 competitions.
FSUK 2019
The focus of 2019 was to improve on the functional design of the FBR18. The biggest focus was on manufacturing simplicity of vehicle dynamics components, and the differential system mounting.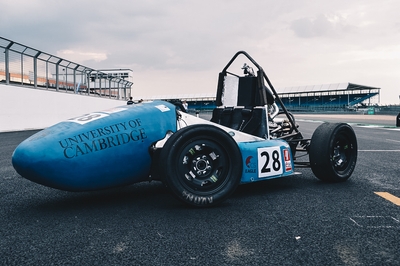 To best utilise our resources, it was decided that the chassis would be reused with a new stressed engine design. With this finalised, design and development of the sub-systems began in earnest. The suspension designs were slower than anticipated due to a knowledge gap within the team. Implementation of a knowledge platform, a comprehensive handover and a reading list was created to rectify this in the future. Other design projects included creation of a new inlet, exhaust, loom, dashboard and bodywork. Various new processes were tested, for example rapid prototyping of the sidepods moulds.
For 2019, FBR entered the UK competition, and the final build period spanned 5 weeks in June and July, during which time the car was finalised and tested. A total distance of 3km was travelled, allowing testing of all systems. During this period several major faults occurred which were documented and shared with the rest of the team as it is vital that team members learn from mistakes and not repeat them in future.
At Silverstone the final touches were put onto the car and we headed to scrutineering. Once scrutineering was passed, the FBR19 competed in two dynamic events: the sprint and endurance races. We gained points for competing in the sprint, despite our time being outside of the required delta to put us into significant points. We got the 19th furthest in endurance of the 81 cars entered into Formula Student UK, a personal best for FBR at Silverstone.
We would like to thank all of our sponsors for their help and support, without which Full Blue Racing could not exist. We would also like to thank all of the workshop staff from the Engineering Department, whose hard work and advice is invaluable in making the team a success.