By working with leading minds from Birmingham-based energy organisations as well as making connections with those from further afield, Birmingham Energy Society aims to: generate discussion about the past, present and future of energy, visit leading companies showcasing future energy solutions for the world's growing population, and introduce members to an extensive network of academics and industrialists who are tackling the planet's largest energy challenges to provide an entry pathway for those interested in a career in the energy sector.
We run many activities throughout the year including guest speakers, networking events, site visits, and trips to energy-related events. Joining us will enable you to get to know other members of the Society and have some fun!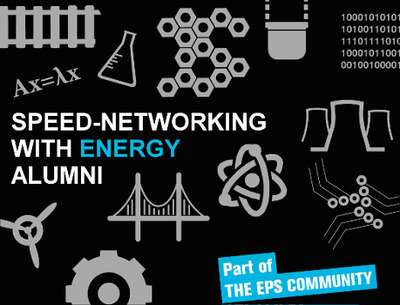 Speed-networking
Before term had even started, BES held a speed-networking event. In collaboration with Grace Surman from the EPS Alumni Office, we welcomed recent graduates working in the energy sector to talk about what they are doing now and how they got there. This online event was a great way for members to network with graduates currently working in roles they might apply to in the coming year.
We kicked off the semester with a talk from Professor Martin Freer, which covered the future challenges in the decarbonisation of the UK energy system. Professor Freer gave a detailed overview of how the UK will adapt in the coming years as we transition towards energy that is more sustainable in the long term, as well as some of the key challenges associated with this transition. We welcomed back Professor Freer a few weeks later, where he engaged in discussions around the topic of decarbonisation with our members.
Talk with Mark Phelpstead from AECOM
Mark Phelpstead from AECOM spoke about potential approaches for the decarbonisation of buildings in the UK. With buildings accounting for 30% of all UK emissions, a real impact could be made if some of the measures outlined in the talk were implemented. The talk also covered case study examples where decarbonisation measures have already been incorporated into UK buildings.
Keith Budden, Head of Business at Cenex (an independent organisation specialising in Low Carbon and Fuel Cells Centre of Excellence) joined us to talk about the transition to low carbon in the transport sector. Keith discussed the alternative to current Internal Combustion Engine vehicles and barriers that need to be overcome to enable the future of low carbon transport.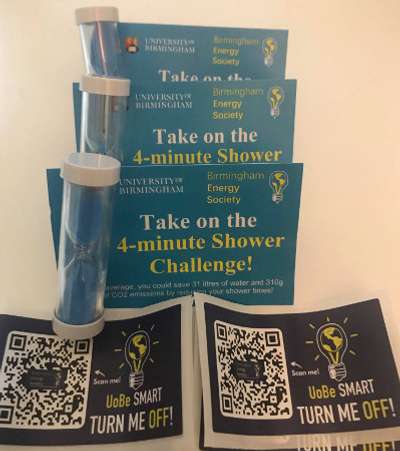 Our Campaign
This year saw the launch of our campaign to reduce energy consumption within University and partner-owned accommodation, with the aim of not just aiding students in how to minimise their own carbon footprint, but also educating and instilling habits which will contribute to a more sustainable lifestyle.
To date, this has seen BES be responsible for the placement of a 'Turn me off!' sticker in 7,500 fresher welcome packages, with the purpose of reminding students to always switch off the lights when not in use and also providing a QR code which leads to our blog on further energy-saving tips! We've also liaised with the University's Environmental Services team to procure around 550 shower timers, which will be distributed to students in shared-bathroom accommodation sites as soon as it is COVID safe to do so.