Our diverse range of projects, our integrated multidisciplinary working environment and the outstanding ability of the people we employ are key factors in making DCA such an exciting company to be part of.
Harry - Mechanical Engineer Intern
Watch to find out more about Harry's internship at DCA
We have a fantastic record of delivering successful product designs to market, and what could be more exciting than seeing products that you have helped to create being used to improve people's quality of life?
New staff, including newly qualified graduates, are encouraged to take on project responsibilities and to liaise directly with clients from the outset, with the support and guidance of experienced team members.
Our mentoring and review processes help staff develop their careers, blending formal training with on-the-job learning, while our internal structures encourage the exchange of ideas and learning between staff in all disciplines.
Competitive salaries are offered, together with biannual and profit related bonuses and paid overtime.
You will be relocating to one of the most entrepreneurial parts of the country: Leamington Spa. It is less than 3 miles from DCA and is home for many of our staff; Birmingham is a short train journey away. As the second most populous UK city, it is also one of the youngest cities in Europe, with nearly 40% of the population under the age of 25.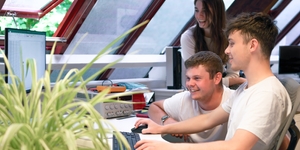 With a vibrant nightlife, festivals and events throughout the year, and one of Europe's largest shopping centres, Birmingham also ranks as one of the happiest UK cities.
And if you're looking for a quieter home life, the region is teeming with attractive villages set in classic rolling English countryside.
Finding the right work life balance for you should be easy at DCA.
Warwick and Leamington are bustling market towns that blend extensive parks and green spaces with historic architecture and offer great bars, cafes and restaurants, and a wide range of independent shops. The local schools are outstanding and there are community events like food, drink and music festivals throughout the year.
Warwick Castle is at the end of our road and makes a dramatic and unique venue for DCA's Christmas parties.
When you do want to get away, there are excellent transport links to the rest of the UK and abroad by road, rail and air. And since we finish work at lunchtime on Fridays, you can be on your way ahead of the crowds.