About Ecolutia
Ecolutia Services provides outsourced water treatment services to industrial clients worldwide. We support specialist water production in a variety of industries, 24/7, with round the clock technical support.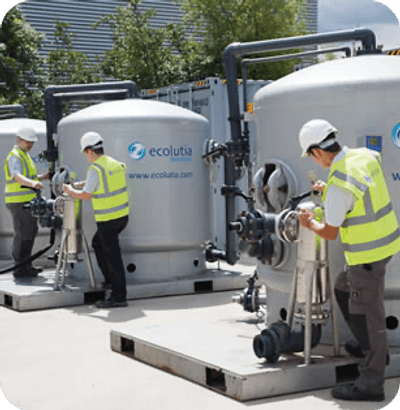 Our fleet of modular pre-engineered systems provide many treatment options including filtration, brackish-water and seawater reverse osmosis and ion-exchange demineralization. Our equipment and personnel are highly skilled, knowledgeable and can travel globally for short and long-term projects. The ability to respond rapidly to the water treatment needs of our clients is critical to our success.
Job Description
Field Service Engineer (FSE) to operate, monitor and maintain water treatment systems.
Manage the treatment process and adhere to set protocols and procedures.
Manage consumable inventories and complete preventative maintenance program.
Record and review appropriate operational data and log all system parameter readings.
Review and analyse data to flag trends and support troubleshooting efforts.
Provide daily operational readings and escalate any pressing operational matters.
Monitor and ensure systems produce contractually agreed water volume and quality.
Ensure all units continue to operate within design tolerances.
Troubleshoot problems and issues in co-ordination with line manager and technical support.
Maintain professional daily communication and direct relationships with client's on-site team, including site engineers, project managers and senior management.
Ensure daily communication with other Ecolutia personnel in the field and back-office.
Assist the field operations team to meet all customer expectations throughout the project.
Who should apply?
This is an entry level position for a talented engineer into the industrial water treatment sector. The candidate must be a good planner with a proactive and hand's-on approach. Excellent communications skills are essential with confidence to speak to people at all levels in an organization, in one-to-one or team situations.
You should enjoy working in high-pressure environments and be happy with a high level of visibility with the client. You must be inquisitive, skilled in analysing situations and good at problem solving.
As the Ecolutia main daily link to the client, ensuring project targets and expectations are continually met will be imperative.
Initial training and operational experience will be given so you can take charge of your specific project location. Travel to multiple Ecolutia project sites throughout the UK or internationally will be required, so your ability to travel for extended periods should not be restricted.
Qualifications
Bachelor's degree or higher in Engineering, Chemistry, or other Science subject.
Valid driving license.
Legally permitted to live and work in the UK (sponsorship not available).
Ability to speak German is an advantage but not essential.
We've signed the Gradcracker feedback pledge.
(This means that we will supply feedback if requested after an interview.)
1e127ede32d8f816eacfb0aed73cee11