Applying to KPMG
We know how busy you are, and when you are studying or working the last thing you need is a long and stressful application process. So we have done our best to make the KPMG application process as straightforward as possible, which will enable you to show us your potential.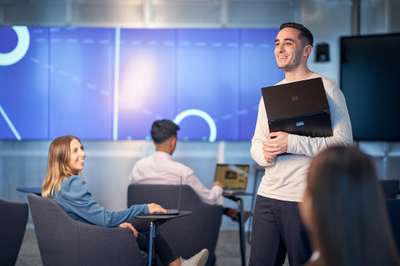 To ensure that you are prepared, we recommend that you explore the information provided in this section – which includes useful hints and tips on what to expect and how to prepare for our online assessments and Virtual Launch Pad assessment.
Our application process is designed not only for us to understand more about you, but also to give you an insight into what life is like at KPMG and whether we are the clear choice for you.
If your preferred location isn't available right now, you can join our Talent Community and be one of the first to know about any new openings. As a member, you'll receive updates on any roles that become available in the business area and location of your choice.
Here's some tips and advice from our recruitment team, to help you perform at your best:
Tip 1
KPMG recruits on a rolling basis, and some routes fill faster than others, so we'd encourage you to apply as early as possible. Typically we open for applications every year between summer and autumn time and the majority of KPMG's assessment days usually take place between October and December the same year. Be one of the first to hear about upcoming events and career opportunities by joining our Talent Community.
Tip 2
Give sufficient time and attention to ensure the information in your online application form is accurate, as we will use the information you provide to decide whether to take your application further. If you secure a role with us, your academic certificates will be checked against your application, and your offer could be withdrawn if we identify that your application information was incorrect.
Tip 3
Be yourself! Our online assessments are designed to identify your strengths and potential, and determine if you are suitable for the role you have applied to. It is therefore important that you are honest and true to yourself when completing the assessments. We will also be re-testing elements of the online assessments at Virtual Launch Pad. Don't forget – you only have a set amount of time from invitation to complete each online assessment, as specified in your invitation email. Make sure you set aside the time to complete them.
Tip 4
Get in touch! The Student Recruitment team are on hand should you need to speak to us. If you experience any technical issues, if any information is unclear to you or if there is anything else you need advice on, then please contact the team.
Tip 5
We will assess you against the strengths that we know are key to a successful career at KPMG. We recommend that you spend time learning about each of the strengths, and consider how they align to your own strengths before deciding whether KPMG is likely to be right for you.