About Heraeus Electro-Nite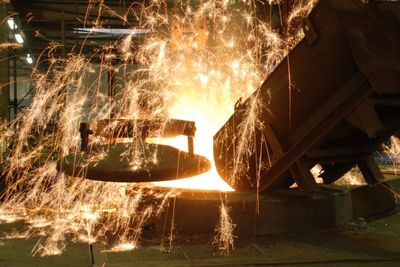 Heraeus Electro-Nite is the market leader in the field of measurement technology in molten metals. We provide steel, iron, aluminium, and copper producers with integrated measurement systems consisting of a sensor, instrumentation, and associated hardware.
These systems provide a wide range of measurements including those for temperature, oxygen, hydrogen, and carbon. As well as single spot measurements, continuous measurement systems are also available for the continuous casting machine.
Our customers rely on and trust the high-quality, innovative products and services we provide. Our on-going research and development ensures that we remain at the forefront of measurement technology, allowing our customers to operate to the highest levels of quality and efficiency.
In collaboration with its customers, Heraeus Electro-Nite seeks to build partnerships which will benefit the metals industry by supplying quality probes of ever improving technology to satisfy increasingly diverse applications.
Graduates
Heraeus - Open Space. For Open Minds.
The success of Heraeus is driven by our employees. With their expertise, entrepreneurial spirit and "nothing is impossible" attitude, our professionals have delivered valuable and innovative solutions to our customers for the past 160 years. Every day, our people bring fresh thinking and bold ideas to their work, creating value for our customers all over the world. If you are looking for an organisation where your work and your ideas can make an impact, then we encourage you to be a part of Heraeus.

Heraeus is looking for motivated, open-minded people who are creative, passionate, and possess an entrepreneurial spirit. To enable you to fully develop your talents and skills, we offer you a supportive and collaborative work environment. Our employer motto "Open Space. For Open Minds." serves as both our commitment and our challenge to you.

Our Mission at Heraeus Electro-Nite
Our mission is to proactively find and satisfy the measurement, monitoring and control needs of the molten metal processes.
We will respond with innovative, value added products and services that improve our customer's quality, productivity, costs, environmental protection and working conditions.
We will concentrate on industry segments that bring sufficient critical mass and above average growth potential. Our intent is to be the partner of choice for our customers, worldwide.
Our UK Office
We're located in Chesterfield, a charming market town in Derbyshire. Chesterfield sits on the edge of the idyllic Peak District, combining culture, landscape and scenery with high street retailers and contemporary facilities. Its superb connections, arts & culture, exciting nightlife and historic town centre make it the perfect place to live and work.