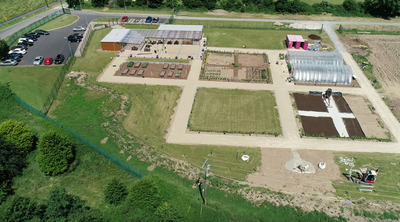 Sustainability in Sisk brings together the three pillars of society (our people), environment (our planet) and economy (our profit performance). Our ambition is to maintain a sustainable business that is profitable and continues to uphold our core values of Care, Integrity and Excellence and delivers for our people and our planet.
Sustainability and social value
These key topics are at the core of that ambition and we are determined to deliver a positive environmental impact for our business, suppliers, clients and neighbours.
We want to be a market leading contributor to social value creation through the promotion, measurement and celebration of all our CSR activities. As we continue to grow and expand our business, we are becoming the employer of first choice for many in our industry with an exciting and innovative culture.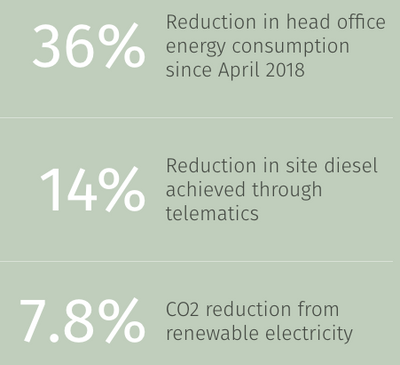 Energy awareness & efficiency
We are embedding a culture of energy awareness & efficiency in our day to day operations with a view to reducing our carbon footprint and reducing our cost base where practical.
This involves measuring, monitoring and assessing our operations to achieve continual improvement and to enhance performance in line with our objectives and targets, whilst meeting our compliance obligations.
We have mandated that all electricity supplies to our offices and sites are procured from renewable sources and the installation of smart meters on all our sites.
Electric vehicles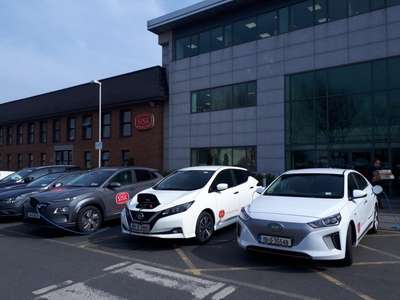 Sisk is proud to be a member of EV100. This is a global initiative bringing together companies committed to accelerating the transition to electric vehicles (EVs) and making electric transport the new normal by 2030.
Since committing to electric vehicles in 2019 Sisk has made significant strides forward. We have installed fast chargers at our offices in Dublin, Cork, Galway and Warrington in the UK. We are well on our way to meeting our target of 100 electric fleet vehicles by 2023.
Green suppliers
Sisk ensures that decisions taken regarding the procurement and engagement of any organisations, individuals, goods or services are governed by integrating environmental, legal, social and economic considerations into all stages of the procurement process.
Our procurement teams actively seek to collaborate with clients, consultants, specialist contractors and suppliers to develop integrated supply chains which respect biodiversity and human rights and promote fair employment practices.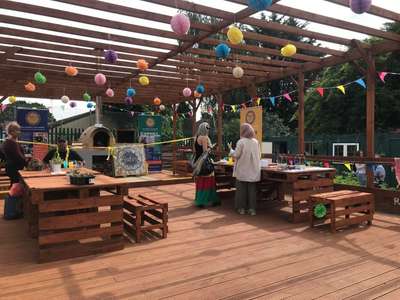 Recycling and decreasing waste
Sisk forecasts, continually monitors and targets waste reductions throughout construction from project inception to completion. We engage with our supply chain to identify and target reductions in waste stream generation.
We provide effective and progressive management of waste on-site through the use of supplier take-backs and recycling services.
Our site teams engage with first class waste contractors with advanced systems to ensure Sisk waste is expertly processed following the waste hierarchy for reuse, recycling and recovery prior to disposal as a last resort.
Bio diversity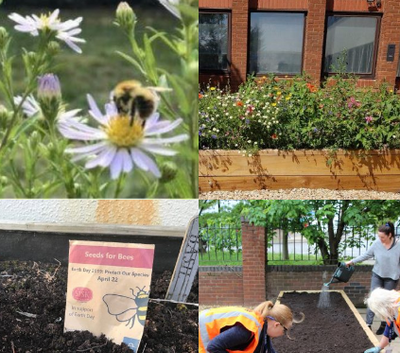 Sisk is committed to protecting the environment and positively enhancing the bio diversity on our website and locations. We engage with our construction teams to identify and mitigate environmental risks following best practice principals. We consult local biodiversity action plans to pinpoint effective and beneficial enhancements for local communities.
Over 3,000 packets of perennial seeds were issued to staff throughout Ireland and the UK to plant at home, work and in local communities.
Considerate Construction Scheme
The Considerate Constructor's Scheme is a not-for-profit independent organisation that seeks to improve the image of the construction industry by striving to achieve and promote best practice under the Code of Considerate Practice.
The scheme is concerned about any area of construction activity that may have a direct or indirect impact on the image of the industry as a whole. The main areas of concern fall into three categories: the general public, the workforce and the environment.
John Sisk & Son has been a partner to the scheme for over ten years and our projects in Ireland and the UK continue to strive to achieve the highest standards possible and are regular winners at the Annual CCS National Site Awards.