A Passion for Innovation
The simplicity and purity of mathematical and logical tasks have always appealed to me. This is why I went to New Bulgarian University to pursue my curiosity for maths. There we use exciting tools like Mathemetica, which solves complex mathematical problems fast. In combination with the great lecturers and my classmates, my passion for technology was ignited.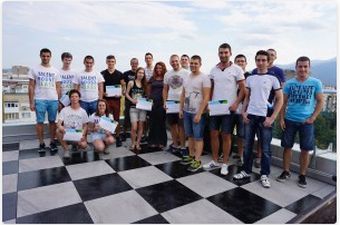 VMware Intern Life
As a VMware intern, I have had the opportunity to work on a project that focuses on the optimisation of the data transport of the product my team is working on. Every week I have discussions with my mentor around what I have worked on, any problems that I've run into and the best approach to tackle them. Along with my mentor meetings, I have had the opportunity to go to other team meetings with the broader group where the entire group gets together to discuss major changes and plans for the project. For lunch, we usually go to some of the nearby food places, which has been a great way to get to know my colleagues better while taking a break from the workday.
Milestone Memories or Embracing Moments of Growth
One of my favourite VMware memories is from the recent office site company event. Each year, VMware Bulgaria organises an event for the Sofia employees to get together. This year, the event was held in October near Sofia in a town called Sandanski. Sandanski is known for its thermal springs and clean air free of allergens. The event incorporated Service Learning, which is an opportunity for employees to give back to the causes closest to their hearts. It was a great day because there were various volunteer opportunities including crafting souvenirs, painting schools, cleaning national parks, and translating information into Bulgarian for foreign educational sites. I participated in the group that crafted souvenirs. We made nice products that will be sold at charity bazaars. Knowing that we were creating something that will help others was a great feeling. That day was a great experience for me because I know we were helping make a difference in the community.