You'll receive a wealth of opportunities, benefits, programmes and policies to help you achieve success in all elements of your life, and to recognise and reward the value you bring to our business.
Rewards at EY come in all shapes and sizes. Why? Because we want you to enjoy life outside of work just as much as you enjoy working.
Your salary
When you work hard, it's important to know you're being paid fairly. We make sure our pay stacks up well with other employers, and regular reviews keep your salary in line with your progress.
Matched employer pension contributions of up to 6%
We also have formal recognition initiatives and team awards in place.
Your work-life balance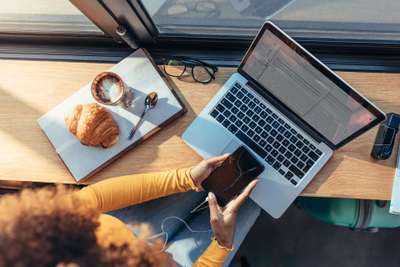 When you can shape work around your life, you're likely to be happier and more productive. That's why we have a number of policies to help you maintain a healthy work-life balance.
Up to 27 days' annual leave with the option to buy and sell
Flexible working - formal and informal flexible working arrangements, including options to work from home, reduce your hours, or flex your start and finish times.
Family leave; including maternity, adoption, surrogacy, paternity, and shared parental leave of up to 52 weeks.
Career and Family coaching for all individuals taking family leave.
Special leave. Time off work when you need it most.
Your health and well-being
Working at EY is challenging and stimulating and we aim to promote a workplace where our people can perform at their best. We have a number of initiatives in place to support your health and wellbeing.
Discretionary sick pay for up to 52 weeks
Sports teams
Free eyesight testing
Bikes for Work scheme
Discounted gym membership
Monthly webinars on a range of physical and mental health topics
Insurance including life, critical illness, dental, personal accident and travel
Private healthcare: provided for managers and above or those with five years' service
Occupational health, health and safety and rehabilitation consultants
Physiotherapy: rapid access to advice and treatment.
Your finances
We offer a number of initiatives to support you and give you financial peace of mind.
"You + money =" educational guidance and tools to help you manage your finances as well as benefits e.g. workplace loan
A Season ticket loan
Lifestyle discounts for well-known brands
Graduate Interest Free Loan (Only available if employed on a graduate contract)
Tax Return preparation.
Your interests
Continue to build your interests outside of your day to day role.
Volunteering entitlement
Volunteering is a great way to develop your skills, build your networks, enjoy new experiences and have a positive impact on society. At EY, we give you a minimum of two days paid leave each year to volunteer with your chosen charity or with the EY Foundation, an independent UK registered charity which aims to make the biggest difference to the lives of young people and social entrepreneurs in the UK.
Our networks and communities
We have a wide range of internal networks and communities you can get involved in, including Women in Technology, LGBT+, Military Network, sports teams, parent groups, interfaith working groups and more.
EY and the Arts
We're big fans of the arts at EY, sponsoring exhibitions all around the UK with partners like the Tate. Enjoy private views, workshops, lunchtime talks, volunteering opportunities and complimentary tickets to sought-after exhibitions.