In 2021, Reply launched 'Reply to the Earth', an internal programme aimed at leading Reply towards a greener and more sustainable future. The programme includes various communication initiatives and activities and is spearheaded by Reply employees.
---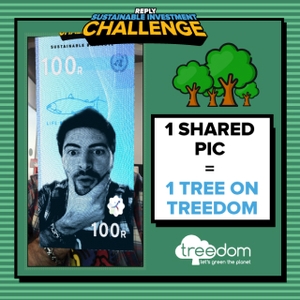 Reply Forest
Through Treedom, Reply began planting its own forest in 2020. Thanks to the continued commitment of Replyers and their involvement in internal initiatives, the forest is steadily growing in many countries around the world. A counter on the Reply page on Treedom keeps track of Reply's tree-planting journey.
Reply Sustainable Investment Challenge
The second Reply Investment Challenge focused on the topic of Sustainable Investments and ESG ratings. This way participants were made aware of conscious investments while having fun. With a matching Instagram filter, for each post on the challenge Reply planted a tree.
What happens to our event material?
Every year, Reply hosts numerous events with various promotional materials including roll-ups and banners. We upcycle this material into a series of limited-edition Reply gifts such as wallets, laptop bags, and much more.
---
Internal Initiatives
At Reply, fostering a sense of community is very important. Especially, when it comes to important causes. Which is why, we promote sustainability and health and wellness with internal initiatives – be it walking to Mars together or celebrating Earth Day.
Giving our logo sign a second life
After many years, we're retiring the large Reply letters displayed outside our Milan office. But instead of simply throwing them away, challenged Replyers to come up with recycling ideas, which resulted in some great ideas, as well as some useful and unique pieces.
---
Green gadgets & packaging
Gadgets, gifts and creative packaging keep the Reply spirit alive. But we pay great attention to the materials and manufacturing processes we use. From reusable water bottles to organic cotton T-shirts to packaging using from recycled materials, we put sustainability at the heart of everything.