The Graduate Programme
Graduates are placed on a structured 24 months' development programme covering the whole lifecycle of a project from site possession, through to fit-out and reporting structures.
Objective: Your aim is to participate in the design management graduate scheme. The scheme will equip the graduate to be able to provide project design management and design coordination on their own within 4 to 5 years. This will include managing the design team, sub-contract/supply chain design and to provide design and technical support to the site team. Your individual effort will be supplemented by a range of internal seminars, and reviewed quarterly so that you receive comprehensive feedback on your progress.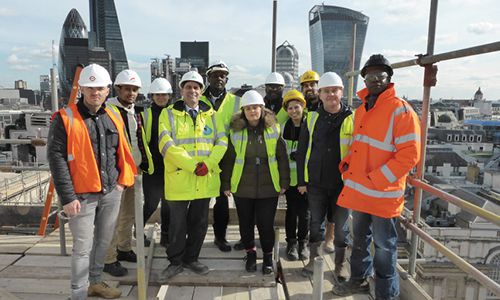 Graduates will also be expected to take part in a rotational programme, encouraging graduates to work with other important cogs of our business. These will include Project Management, Civil Engineering, Pre-Construction and Commercial amongst others.
Outcome: Successful completion of the programme will help participants to achieve Assistant Design Manager status.
Structure:
Every graduate will have a tailored programme
You will undertake quarterly reviews every 3 months is to be held with the attendance of the HOD, Graduate and L&D Manager
Graduates will have access to other technical seminars and professional qualifications including CIOB.
Professional Development: Ardmore will support your professional development by encouraging you to apply for your chartership with CIOB, and offering you a wide variety of work and projects in order to gain experience required to achieve this. You will be supported by an internal CIOB mentor and chancellor.
Key Areas of Responsibility: The candidate will work closely with / shadowing Design Manager. You will be assigned to various tasks during the course of your training period to cover elements from document control, design meeting management, design development, subcontractor and supply chain design management through site inspections to O&M Manual compilation.
Requirements:
Min 2:1 BSc in Architecture or any other design related degree at BSc, PG Dip or MSc level
Proficient use of MS Office
CSCS card
Previous experience on site advantageous (work placement / summer placements).
In addition, you will–
Have a good understanding of team dynamics and will support people in the team to achieve shared goals
Be able to demonstrate strong communication and interpersonal skills
Be self-confident and articulate
Be resilient and work successfully under pressure
Be self-disciplined, and organised with well-developed time management skills
1e127ede32d8f816eacfb0aed73cee11