Our graduates are integral to our vision of being the best managed business in the sector. Using your natural intellect, commercial mind-set and passionate interest in the world's people, politics and services, you will be continually striving to improve the way we manage our business, support citizens and deliver innovation in our services.
To do this we will be asking you to build your understanding of our business, our values, our contracts, and our people as you undertake a 24 month rotational programme.
You'll choose between an 'Operational' or 'Functional' role:
Operational
Working within Operations means being involved in the frontline of our business.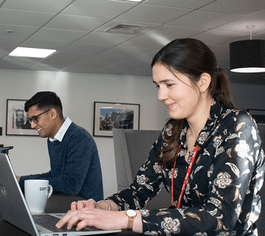 Over the course of two years you'll complete two placements at sites in a regional cluster. This could mean working in a hospital, prison, environmental services centre, a marine site, or at London Cycle Hire. Either way, you'll develop an understanding of what it takes to deliver public services, work with our customers, manage and lead teams, and roll up your sleeves and pitch in with front line work!
Functional
As a global company of 50,000+ employees we rely on the support of our Corporate Functions to keep the business running smoothly and efficiently. This Graduate Programme will see you become part of one of these teams - rotating around the key functions to help you understand the people, systems, skills and processes it takes to manage them.
Armed with that knowledge you'll be in an excellent place to help towards our journey of continuous improvement and to apply your ideas and problem-solving abilities.
Which programme is right for you?