ITV loves tasty benefits
At ITV everyone gets five weeks' holiday on top of public holidays, plus the option to buy more. Then there's an annual bonus, and the chance to join our fantastic pension and health insurance schemes.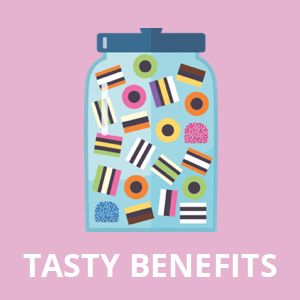 And whether you cycle into work or take the train, we've got you covered there too, with our cycle to work scheme and interest-free season-ticket loan.
Add savings on gym membership and at a wide range of retailers, as well as opportunities to buy ITV shares, and you'll discover there's a lot to get your teeth into.
Here's a quick rundown of our core benefits:
Holiday - five weeks' holiday a year plus bank holidays, with an extra two days after five years' service.
Annual bonus opportunity - linked to ITV's financial performance.
Save As You Earn – save straight from your pay each month, and at the end of the savings period either withdraw your cash or buy ITV shares at a discounted price.
Pension - receive valuable contributions from ITV to boost your savings.
Income Protection and Life Assurance – peace of mind for you and your family if you become unable to work.
Employee Assistance Programme – providing independent and completely confidential support, advice and information on any personal or work-related issue.
In addition to our core benefits, you can also choose extra benefits to suit your lifestyle, including:
Gym membership – get in shape for less by saving money at thousands of gyms, health clubs and leisure centres.
Extra holiday – this is our most popular benefit and enables you to buy up to two weeks' extra holiday each year.
Cycle to Work - save money on a bike and safety equipment to use for commuting.
Private healthcare – the opportunity to provide cover for you and your family.
Season ticket loan – save on your commuting costs by applying for an interest-free loan to buy an annual travel ticket.
Payroll giving – a tax-efficient way to support good causes directly from your pay.
Spark – got an idea for a new show? If we commission it and make it (and it's successful), we'll share that success with you.
Think that's all? Think again. When you join the team, you'll discover all this, too:
A range of family leave policies and flexible working opportunities.
Three days of paid volunteering leave each year.
The opportunity to apply for unpaid sabbatical leave after two years of continuous service.
Recognition awards via management nominations, including access to ITV shows, sporting events and ITV exclusive experiences.
Chances for everyone to grab audience tickets to ITV shows.
A wide range of resources, events and networks to help you develop your skills and progress your career at ITV.
Free parking at the majority of our sites outside London.
Most roles have a laptop, including for reasonable personal use, and some roles have a mobile device too.
Our brilliant ITV events, like Christmas parties!