About us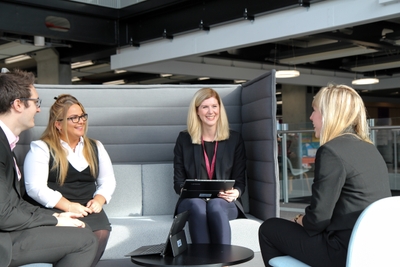 At the FCA, we help to protect financial consumers and make markets work well by regulating the conduct of over 59,000 businesses.
Our ambition is to become a more innovative, more assertive and more adaptive regulator; one that fully capitalises on data and technology, ensures consumer protection and market integrity, and responds well to the challenges we face.
We're looking for bright, enthusiastic and values driven graduates to join our diverse and highly capable teams across the FCA.
About the Programme
Programme Length: Two years
Programme Type: Rotational
In Data, Technology & Innovation (DTI), we are transforming the way the FCA analyses and uses the data, intelligence and information we receive so that we can spot harm and act sooner, enabling us to more effectively regulate the firms we oversee.
Our Technology Division is one of the areas available for graduates to specialise within DTI.
The Technology Division provides IT services to the rest of the FCA. There are many diverse teams within the division, from those who design and develop our technology solutions to those who manage and maintain them.
This is a great opportunity to get hands on with cloud computing, agile delivery, software as a service solutions and technology delivery. You'll be able to select from a number of technology pathways including engineering, strategy and architecture, operations and product management.
The Technology Division is all about technology and therefore many of our roles specialise in the design, delivery and testing of technology solutions as well as maintaining and protecting our IT services and systems.
You could specialise areas covering service and monitoring, agile product management and software engineering. Exposure to these disciplines will provide you with the opportunity to gain an understanding of how technology products are made, delivered and managed at scale in an organisation.
You could specialise within our architecture discipline that underpins the technology strategic direction. This includes strategic planning, architecture roadmap development and design governance. You will gain a holistic view of the current and emerging technologies that the FCA depends upon.
You could specialise within the disciplines that enable our technology delivery such as supplier management, risk management, financial management and resource planning.
These roles work well for those who want to support the delivery of a complex and fast paced technology division working closely with senior leaders and management teams. You will see the management and leadership of the whole division, turning strategy into operational delivery.
Learning & Development
As a graduate in Technology, you'll complete an initial 'bootcamp' that provides you will all the baseline skills and learning you will need for the graduate programme. Even if you don't have specific hands-on technology experience.
We then provide appropriate specialist learning for you chosen pathway through our training academy. We will equip you with all the skills you need.
After the bootcamp you'll be benefit from working across a variety of roles, allowing you to put your skills into practice. Experimentation and continuous learning are key to how you will develop as a technologist.
Throughout your time at the FCA, you will be able to advance your capabilities through training initiatives, such as e-learning, access to a wide range of self-service learning platforms and portals as well as access to regular seminars with suppliers, academics and thought leaders.
You'll be supported by our experienced technologists, who will mentor you throughout your time on the graduate programme.
You can also join one of our communities of practice related to your specialism. This means you will benefit from the knowledge of others and have opportunities to share your knowledge while developing critical business skills.
Our graduates present their work to large audiences internally and externally, contribute to technology delivery for the wider organisation, and work together to ensure technology delivers our strategic outcomes.
You will have rotations of six months in different but related areas so you can move at the end of the programme into your chosen specialism.
What we look for
Our staff have diverse backgrounds but are all passionate about technology. We don't look for a degree in a specific discipline, but you should have some experience of development, delivery or management of technology and software.
Within your degree, your hobbies or an internship you may have experience in areas such as building apps, developing websites, writing software, helping others setup up networks, or configuring technology platforms.
As well as your technical focus you should be customer-focused and commercially minded. You will need strong communication skills and an analytical mind.
What we offer
We're committed to making the FCA a great place to work. We do this by:
providing a rewarding environment, recognising that our people are motivated by meaningful work
maintaining a strong commitment to diversity and inclusion, allowing people to develop and progress without barriers
looking after the well-being of our people, ensuring that they are safe and well and appropriately cared for
promoting an environment in which people are valued and respected
Beyond this, we offer all our graduates a competitive range of benefits, including:
Base salary of £36,000
Flexible working options
Private health care
Career and family leave
Non-contributory pension
Charity and volunteering initiatives
Minimum of 25 days' holiday
Sports and social clubs
Subsidised on-site fitness centre (London only)
Free eye tests
Subsidised restaurant
Interest-free season ticket loans.
Please note:
We only accept ONE application per person for our 2023 programmes, therefore, please apply to your first-choice programme. Any additional applications will not be progressed.
For the 2023 Technology Graduate Programme, submit your online application by Sunday 11th December 2022. However, we recruit on a rolling basis and therefore encourage early applications.
Applicants must have obtained or be on track to achieve a minimum 2:1 degree from any university.
Applicants for the 2023 graduate programmes must have graduated or be in their final year of study.
We've signed the Gradcracker feedback pledge.
(This means that we will supply feedback if requested after an interview.)
1e127ede32d8f816eacfb0aed73cee11