About us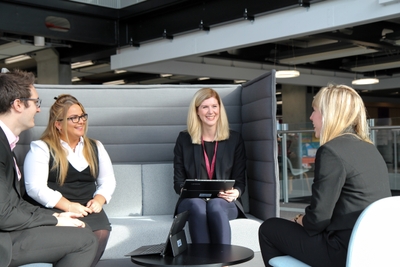 At the FCA, we help to protect financial consumers and make markets work well by regulating the conduct of over 59,000 businesses.
Our ambition is to become a more innovative, more assertive and more adaptive regulator; one that fully capitalises on data and technology, ensures consumer protection and market integrity, and responds well to the challenges we face.
We're looking for bright, enthusiastic and values driven interns to join our diverse and highly capable teams across the FCA.
About the Internship
Length: 10 weeks
In Data, Technology & Innovation (DTI), we are transforming the way the FCA analyses and uses the data, intelligence and information we receive so that we can spot harm and act sooner, enabling us to more effectively regulate the firms we oversee.
If you join our Data Science Summer Internship, you'll work in our Advanced Analytics and Data Science Unit department leading the development and application of data science at the FCA. Our data scientists deliver business value through the use of pioneering techniques.
You'll support our data scientists on projects and help deliver innovative solutions to solve challenging problems. For example, you could be deploying machine learning to build classifiers to support decision making. Or, implementing natural language processing to automate document analysis and utilising network analytics to identify transaction patterns.
At the end of the internship, you'll have gained experience in both data science and financial services, working with diverse groups of stakeholders to solve real-world business problems. And, if you're successful, you could be offered a place on our 2024 Graduate Programme.
What we look for
on course for a 2.1 in a quantitative degree
have experience working with data
have proven analytical and problem-solving skills
are a team player
can communicate complex information in a clear and simple manner then we want to hear from you
can code in Python or R is useful
What we offer
We're committed to making the FCA a great place to work. We do this by:
providing a rewarding environment, recognising that our people are motivated by meaningful work
maintaining a strong commitment to diversity and inclusion, allowing people to develop and progress without barriers
looking after the well-being of our people, ensuring that they are safe and well and appropriately cared for
promoting an environment in which people are valued and respected
At the FCA you'll have the opportunity to make a difference. We offer all our summer interns:
A competitive salary of £24,000 (pro rata)
A bespoke induction in the first week of the summer internship programme to introduce you to what we do at the FCA and our place in the Financial Services landscape
Access to a skills training path to support you through your internship and beyond
Completion of a financial services related project that benefits the local community, which you will present to a senior panel of judges towards the end of your internship
Opportunity to hear from senior speakers across the business
Lunch and learn sessions to widen your knowledge of the FCA divisions and their work
Social opportunities to network and engage with your intern cohort
Please note:
We only accept ONE application per person for our 2023 programmes, therefore, please apply to your first-choice programme. Any additional applications will not be progressed.
For the 2023 Data Science Summer Internship Programme, submit your online application by Sunday 29th January 2023. However, we recruit on a rolling basis and therefore encourage early applications.
Applicants must be in their penultimate year of study and on track to achieve a minimum 2:1 degree from any university.
We've signed the Gradcracker feedback pledge.
(This means that we will supply feedback if requested after an interview.)
1e127ede32d8f816eacfb0aed73cee11