You will work on a range of cutting-edge research projects across multiple teams, supporting with technical tasks and project management.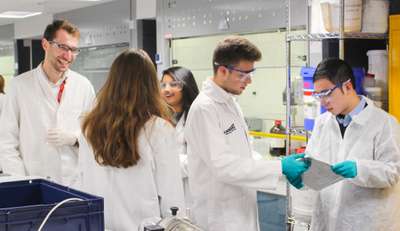 This may include working in labs, workshops or visiting businesses that we are working with. You will support with general project management activities and form part of a team that are innovating to create breakthrough products, processes, services and technologies.
You will work on projects that will give you experience of a wide range of sectors, such as manufacturing, space, health, digital, energy, transport, telecoms, the urban environment and many others. You will work as part of a team to support industry in getting high potential ideas to market, fuelling business growth, and increasing productivity.
Specific technical skills we are looking for:
Experience of working in Labs and workshops
Good commercial awareness of our main research areas, including Intelligent Vehicles and all aspects of Energy Innovation.
Good organisational and project management skills
Great networking and business development skills.
The WMG Graduate scheme aims to provide a Graduate Trainee Engineer with a high-quality training and development programme, via a series of rotational project placements across our Catapult projects group. As a Graduate Trainee Engineer you will work on a range of projects, with a variety of research and development teams, providing you with a firm grounding in the principles of project engineering and project management. Each rotational project will offer a unique experience.
The Graduate Trainee Engineer will gain experience of working with a wide range of key stakeholders on a variety of groundbreaking research projects. Some projects may be lab based, others may have more of a focus on research or development. During year one of the programme, each project duration will last between 4 months, during each project the Graduate Trainee Engineer will work to a unique set of individualised objectives to be achieved by the end of each placement.
The Graduate scheme offers a diverse, high-quality programme providing the opportunity to work in collaboration with industry and academic partners in a project engineering focused role, within a commercial research and development setting.
Duties:
To be actively involved at a hands-on level in supporting teams in carrying out research and development on a range of projects across WMG and Catapult.
To contribute and support projects with external and internal collaborators. This will include working under pressure, developing new knowledge and skills, and applying them to a real-life context.
To undertake and successfully complete a range of rotational projects (3x4 months in duration in Y1, 1x12 months in duration Y2) supporting research projects across WMG. This may involve, but not be limited to, providing technical recommendations, lab research, lab testing, computer modelling, simulation, literature reviewing. In addition to this you will be contributing to technical reports, presentations and research and disseminating information to relevant colleagues.
To work with the designated Project Supervisor to create and agree individual, project specific objectives to be completed during the agreed project duration. Progress to be recorded and monitored against targets and reported to line manager through the correct processes.
To develop an understanding of the role of external funding through research grants or contracts to support the research agenda, and potentially contribute to applications to support research.
To gain a working knowledge of the role of a Project Manager in a research environment, to include funding streams and requirements, timescales and budgets, financial monitoring and reporting arrangements.
To provide necessary administration and project management during each project placement, this may include organising events, collating information on project activities, providing progress reports, and coordinating ethics and information governance activities.
To develop strong working relationships on each rotational project with the designated project supervisor, collaborators, stakeholders and other staff.
To liaise with and present to project stakeholders, meeting deliverables within timescales and writing technical reports for customers.
To develop an understanding of the work of all business functions within WMG, including Finance, HR and Recruitment, Project Management, Marketing, Business Development and Outreach through scheme led collaborations, projects and initiatives (this may involve occasional work over a weekend).
To engage with and support the WMG outreach programme. Work closely with the Outreach team to develop and deliver outreach initiatives to support departmental objectives and encourage knowledge sharing in the wider community.
To create and submit a research/project report on completion of each rotational placement, recognising and identifying key skills, knowledge and understanding against the UK SPEC competencies. UK SPEC requires you to demonstrate the competence and commitment in five main areas: Knowledge and understanding. Design and development of processes, systems, services and products. Responsibility, management or leadership.
To support the Graduate scheme manager with graduate engagement initiatives, including but not limited to; university presentations, recruitment and careers events, marketing and communications initiatives and support with assessment days and recruitment processes.
To complete a portfolio of PG courses and modules, including a Project Management qualification and PG Certificate in Automotive Technology. Also complete post module assignments (PMA's) as required.
We've signed the Gradcracker feedback pledge.
(This means that we will supply feedback if requested after an interview.)
1e127ede32d8f816eacfb0aed73cee11