We know an inclusive culture, alongside a diverse workforce, makes us more innovative and agile.
Diversity and inclusion in all that we do: our ambition is to have a culture built on empathy and respect, where identity is never a barrier to success, and we all have the freedom to be ourselves. To be inspired by the possibilities that diversity offers our people, our clients, and our firm. To reflect the diversity of the communities and societies we operate in and to be inclusive in all that we do.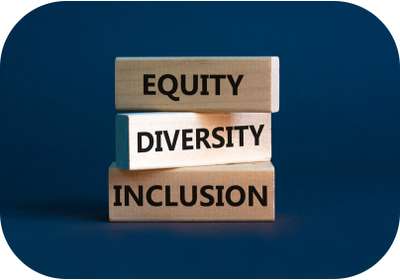 With this in mind, we've established 10 diversity pillars:
Gender balance
Racial, ethnic, and cultural diversity
Social mobility
LGBTQ+
Wellbeing and mental health
Age and generations
Faith
Neurodiversity
Disability
Family and carers
Our networks
We know employing a diverse group of people from different backgrounds is key to our future growth and ongoing success. We strive to create and maintain an inclusive work environment where all of all our people are seen as individuals and are each supported and encouraged to achieve. We have a variety of networks, including:

Embrace is an award-winning, non-exclusive, and supportive community that welcomes employees of all cultural and racial backgrounds. Embrace is a network for those who relate to, identify with, appreciate, or celebrate culture, religion, history, and experience. The mission is to raise awareness on multiculturalism in the workplace; create an internal network of support; collaborate with leadership in the firm to enhance diversity and inclusion and host socials and events throughout the year.

StandOUT provides a supportive framework for our LGBTQ+ staff and allies, by representing their views and promoting a culture of diversity and inclusion. StandOUT organise internal and external events and initiatives to raise awareness and educate all employees about our LGBTQ+ community.

NeuroNetwork celebrates neurodiverse minds and all ways of thinking in the workplace. Neurodivergent people can bring unique abilities and qualities to the workplace, but also face challenges and can feel unsupported. NeuroNetwork is a place of support, education, and inclusivity in the firm, to eradicate the challenges faced by neurodivergent colleagues.
Inclusive recruitment
Inclusivity is integral to us.
We know an inclusive culture, alongside a diverse workforce, makes us more innovative and agile. We are keen to create a recruitment process where everyone feels supported to succeed, to ensure that we recruit the top candidates onto our programmes, no matter their background or circumstance. It's also the right thing to do. Our highlights:
To minimise bias, we operate blind screening and blind interviewing, so all identification details and previous assessments are hidden from our assessors and interviewers.
To increase support, we offer confidential advice and adjustments to disabled and neurodiverse candidates to ensure they have a barrier-free recruitment experience. If you require adjustments, you can email our Early Careers team.
To increase accessibility, we're recruiting the majority of our candidates online, with online application forms, online Watson-Glaser tests, online video interviews, and (some) virtual assessment centres. Our Flying Start Programme, Virtual Experience Programme and Open Days are entirely online.
To increase diversity in underrepresented groups, we introduced the Rare Recruitment Contextual Recruitment System (CRS) into our recruitment process. Since August 2018, we've used contextual data to help us identify candidates with the greatest potential despite their significant academic, personal or socio-economic disadvantage. We can recognise the achievements of candidates in the context in which they were gained.
To increase diversity in the legal professional, we partner with a number of platforms, networks and initiatives to educate and equip aspiring lawyers with the knowledge and skills they need to succeed. For example, we work with 10,000 Black Interns, Aspiring Solicitors, Forage, and Vantage.
Inclusive development
The Global Women's Development Programme is a programme for lawyers, with the aim of retaining our high performing self-defining women, whilst also finding out what the gender-specific barriers are for the women within our firm. We regularly host women-focussed events and seminars to discuss hot tops and network across our international offices. Since the launch in 2016, the programme has won Legal Week's 'Diversity Innovation Award' and Winner of the Managing Partners' Forum 'Best Leadership Programme Award'.

Bird & Bird are founding signatories of the Law Society Diversity & Inclusion Charter, which is a flagship diversity initiative of the legal profession. We're also members of IP Inclusive, which was started by the Chartered Institute of Patent Attorneys (CIPA) with the aim of increasing diversity within the IP profession.

We're a Stonewall Diversity Champion and we're also committed to, and partner with, Black Solicitors Network, Race Fairness Commitment, Race at Work Charter, Halo Hair Code, Mansfield Rule, Social Mobility Business Partnership (SMBP), Prime, Reignite Academy, Real Estate Balance, to name a few.