About Us
Clarke Energy, a KOHLER Company, is a multi-award-winning global business specialising in the engineering, installation and maintenance of distributed power generation solutions.
With more than 1,200 employees worldwide across 27 countries, Clarke Energy is always looking for exceptional, motivated and passionate people to join our growing teams worldwide.
Responsibilities:
It is envisaged that the primary role of this function is to generate new business growth in green technologies.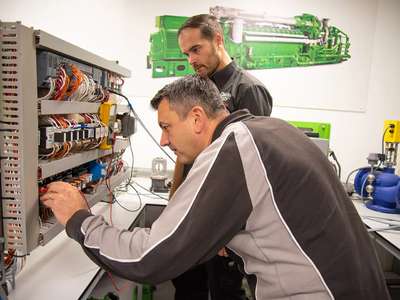 Identify and meet with prospective and existing customers, developers, and specifiers to develop identified opportunities.
Liaise with external and internal sales teams in proposing technical solutions.
Present technical and commercial proposals to stakeholders.
Produce feasibility and investment grade audit documents.
If required on specific opportunities, and following agreement with the Line Manager, provide support to sales, business development and proposals teams across other Clarke Energy territories.
Where requested, provide tender support to Proposals Engineers in the form of specification preparation, tender analysis, drawing interrogation, budget review, checking and obtaining supplier quotations.
Undertake specific project/opportunity/technology assessments as required by the business and report back on viability.
Interface with both marketing and engineering functions to develop opportunities and where necessary propose solutions to potential customers.
Engage with projects and service departments to determine delivery, installation, and on-going support requirements of new opportunities/technologies.
Examples of such opportunities:
Grid-connected energy storage
Microgrid/hybrid technology
Heat pumps
Hydrogen engine application development
Technical/Professional Knowledge and Skills:
Degree in Engineering (or similar technical subject) from a recognised institution (alternative higher education certificates may be considered where supported by relevant industrial experience).
Good understanding of both electrical and mechanical engineering principles.
Good understanding of power generation technologies, project development and net zero carbon.
Have a working knowledge of territory specific regulation, technical requirements and standards relating to generation equipment.
Good IT skills – Word, Excel, PowerPoint and Microsoft Project.
Personal Attributes:
The role requires the job holder to demonstrate that they are:
Consistently trustworthy and professional
Reliable and dependable
Responsive to customer needs
Supportive and able to work well with colleagues
Effective in time management and organisation of workload
Prepared to work under own initiative and do what is required to get job done
Committed to quality and improvement
Willing to take responsibility for work and actions
Keen to seek out and act on ideas for self-improvement.
In addition, it is particularly important to the success of this role that the job holder can demonstrate the following:
Good relationship building and communication skills – at all levels across both internal and external functions.
Ability to motivate, persuade and influence others
A flexible approach to requirements – adapts to changing priorities and requirements
Strong planning skills
Commercial awareness – acts to minimise costs to Clarke Energy and customers.
Desirable:
A background in electrical and/or mechanical engineering is desirable.
The successful candidate should have experience of power generation markets in Clarke Energy territories.
Willingness to travel and work away from home as required.
Experience of low carbon generation.
Active interest in net zero carbon.
Benefits
25 days' holiday plus bank holidays
Pension Scheme
Permanent Health Insurance
Health care cash plan
Length of service incentives
Reward and Recognition Scheme
In-depth induction programme
Ongoing learning framework
Financial support for higher education
Please note you don't need to be local to Knowsley head office, there will be a requirement for you to be in the office whilst training and then every few weeks after that but you won't be in the office 5 days a week so we can be flexible.
1e127ede32d8f816eacfb0aed73cee11