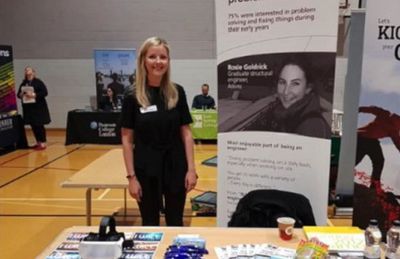 In this Blog Series we're showcasing and celebrating the work our Graduates are doing on projects. First up we hear from Rose Whitfield, whose mantra for 2018 is, "I HAVE THE POWER TO MAKE A DIFFERENCE TODAY". Read on to see how she has already made a big difference to the business in just nine months…
ROSE'S STORY: "Since I started at SNC-Lavalin's Atkins business I've have enjoyed some incredible opportunities in the Infrastructure and Nuclear sectors. When I joined the business, one of my key interests was to get involved with developing new digital solutions to engineering problems. This passion was fully supported, allowing me to grow in my area of interest.
My first role was Assistant Project Manager on a major project in the Middle East, to design a Waterpark! It was a dream project. I joined the project at Concept Design where I became part of an incredible multidisciplinary design team, working collaboratively and creatively to design a world-class waterpark. Since then the team has doubled in size as the project has gone from strength to strength and we won more work from the Client and have continued to develop the design.
The key driver for this project is to deliver the waterpark by March 2021 – not an easy task and one which requires a seamless delivery programme. Whilst the team is primarily based in the UK, we have key interfaces on the project in the USA, Ireland, India and the Middle East. As my role was to assist coordinating this large multi-disciplinary team, I developed a new digital tool that would harness collaborative working.
This tool helped with the day-to-day running of the project by streamlining important, but time-consuming project processes. As the project developed and the team expanded, I realised the need for a central platform for collaborative and transparent working. Working with some of our Digital Leads, I implemented a new digital tool to the project that acts as a team hub and controls many of the interfaces on the project.
The business now uses it to share information, track design decisions, keep on top of spending and interface with our Global Design Centre in Bangalore. My aim is to keep evolving it for the Waterpark project, and hopefully implement it on many more in the future!
JAMES, PROJECT LEAD: "Rose was unrelenting in making sure that quality and our business principle of Right First Time was adhered to on the Waterpark. She was also responsible for setting up the digital strategy on the project. She began updating some of the more archaic project management systems, overhauling and developing them using the latest, most efficient software. Regarding bid work, she was integral to the team who won the next phase of the Waterpark project. The confidence which the practice has in her is proven by the fact that she also led a bid for a section of work for a major nuclear project, and is now looking at managing this section of work. Rose has shown full competence in technical and managerial roles this year and is now leading on a practice level!"