Join a dynamic community where everyone is welcome. We believe in Inclusion for All. Our shared behaviours and beliefs, known as Vodafone Spirit, make this a great place to work and belong. Enjoy working with great minds and diverse perspectives that will inspire you.
---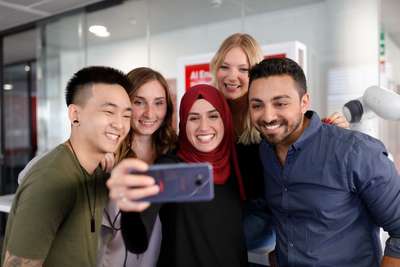 Diversity & Inclusion
Inclusion for All is one of the key pillars of our purpose as a business, and at the heart of our strategy. We offer market-leading policies and initiatives. Our Maternity and Paternity Policies support working parents to balance work and home life.
Our award-winning Domestic Abuse Policy provides support at work to survivors experiencing domestic abuse. Our ReConnect Programme welcomes back returners who have taken a career break back into the workplace.
Our wide-ranging Employee Networks support and inspire people across our business. Alongside our people, we celebrate events throughout the year, on disability, families, gender, LGBT+ and race.
We are proud to have been publicly recognised for our support, and we have committed to doing more going forward. To get there, we're working across the business to make changes in real time that create conditions to thrive.