Pablo Jejcic is Head of Cloud Engineering at London Stock Exchange Group (LSEG). Originally from Argentina, he moved to Aberdeen to work in Artificial Intelligence after completing his degree in Engineering. He held roles at Sun Microsystems, Oracle and Vodafone before joining LSEG in London.
We caught up with Pablo to find out about the importance of cloud technology at LSEG and beyond.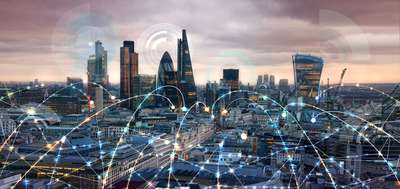 Why did you choose to join LSEG?
One way or another, anything that happens at LSEG has an impact on the financial services industry as a whole, which means that it's always going to be an interesting place to work. I was also excited by the scale of ambition here – our aim is to move 60 percent of the business into the cloud.
What is the benefit of moving to the cloud?
The benefit is fourfold. Firstly, it gives us much more agility when responding to change within the industry. So, for example, when we're all working from home the cloud offers close to infinite scaling capabilities, allowing everyone to connect to the same environment at the same time. Equally, it allows us to switch back to a much lower level of consumption as and when it's needed.
Secondly, the cloud offers huge research and development capabilities. It allows us to trial technologies and services, deploy them at speed and quickly figure out which models deliver value and which don't. This means we can be more innovative, knowing that we're able to try things out and change course when we need to.
Thirdly, it gives us better global access, enabling us to get up and running in new markets in next to no time.
Fourthly, it allows us to automate countless processes. And since everything is logged and timestamped in the cloud, we're able to keep track of what goes on and identify trends or issues in a fraction of the time. This of course means a big reduction in cost too.
Why is LSEG a great place to build a career in technology?
If you think about it, we're trying to change the way we develop software, we're trying to change the way we provide services and access to our products, we're trying to change how we provide procurement, compliance, traceability… we are using technology to change everything! That's why LSEG is a great place to build a career in technology.
What are your colleagues like?
We have a mix of people in my team – most are software developers or orientated towards automation and coding. From an overall organisational perspective we have people from all backgrounds – finance, procurement, risk, compliance… We work using an agile model, and our community is very open, very collaborative and very forward thinking.
Some people might feel a bit intimidated by the scale of what you've taken on…
Why? It's a challenge! That's why we work, isn't it?
I can see the value of moving to a cloud model from a business point of view and I can see the value of transforming into a more agile organisation overall. But what drives me, I guess, is the fact that LSEG is so core to financial services. So it's almost like by changing LSEG you're changing a complete industry, and that's pretty exciting.