David Tinney, Head of Projects, Technology explains what our tech teams are doing improve how we deliver new products to the European market.
As a larger, European business, we now serve more than 21 million customers across five countries, which is huge. Our task here in Technology is to improve the speed at which we deliver new products and services to all those customers whether they be in the UK, Ireland, Italy, Germany or Austria.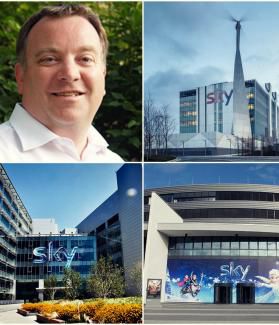 Over the past few months our Technology teams have come together across Europe to look at an exciting opportunity, the European Data Centre Consolidation Initiative (EDCCI). It sounds quite grand, but put simply the idea is to use all our collective skills, abilities and resources to effectively manage our data centres across Europe. And data centres, for those of you who aren't aware, are where we store and back up all the information we need to run our businesses.
Our data centres are important as they underpin our internal technology services, and help us to consistently and reliably deliver to our customers.
The things we have been considering as we worked on this project are flexibility and efficiency. How can we make sure we can respond to the changes needs of all our businesses across Europe and be as cost efficient as possible.
All of the European teams have embraced the project with great positivity and enthusiasm and, in my 14 years at Sky, I have never seen so many different departments, countries, and stakeholders come together with such vigour and enthusiasm as I have with this programme.
The programme is moving into the delivery phase and, as the new European Wide Area Network (WAN) is commissioned, the first applications will be moved from an outsourced Data Centre in Germany to our state-of-the-art Scottish Data Centres, utilising some of the latest technologies.
It's a long journey that has just begun and we are all excited to be part of such an important transformation as part of the bigger Sky.