At Mercedes AMG High Performance Powertrains we offer a 12 month Placement programme which will tap into your passion and determination to win, giving you a real opportunity to contribute to our success story. In Supplier Technical Assistance we work collaboratively across the business to enable the pace of technology development by creating a dynamic and responsive external supply chain.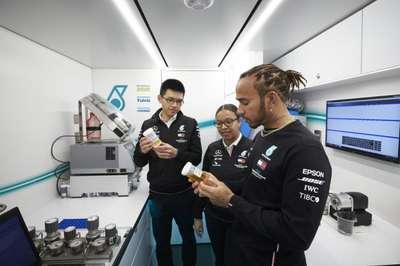 The team is responsible for ensuring that quality assured parts are delivered from our external suppliers on time, to specification and to the required quantities in order to meet the business's evolving needs. As a team we pride ourselves on challenging and developing our Graduates with a scheme which will provide exposure to Formula 1 and also to the revolutionary Mercedes AMG Road Car "Project One".
To do this you will;
Support Engineering, Purchasing and external suppliers to resolve technical challenges and assure part conformance to drawings, specifications and requirements
Engage with the part design process to ensure that engineers are aware of quality history and known supplier challenges and provide effective design for manufacture capability and cost optimisation
Determine supplier capability and capacity, and provide technical support to achieve supplier readiness
Work closely with Purchasing and Engineering to maintain relationships with our most capable and efficient suppliers
Champion process improvements with suppliers to optimise their technical capability to manufacture to our requirements
Ensure alignment to programme deliverables to support on-time, parts-in-stores delivery dates
Deliver quality based statistics to help monitor the performance of the team and suppliers
What do we need from you?
A curious, tenacious and driven individual with a hunger to work in a fast paced environment
Enrolled on a relevant Mechanical / Automotive / Mechatronics / Motorsport / Aeronautical Engineering or related degree e.g. Maths / Sciences, and on course for a 2:1 degree or higher
A strong academic background in relevant A-Levels (Maths / Sciences) or equivalent disciplines
An excellent understanding of engineering first principles
Practical "hands-on" experience to complement your academic studies
Excellent communication skills
Self-motivation, adaptability and creativity
Courage to challenge and desire to be challenged, to expand your technical knowledge and skills
What can we offer you?
We can offer you the opportunity to work in a state of the art Technology Centre. Supported by a wealth of expertise, you will take on the challenges faced when delivering championship-winning Formula 1, Formula E and high performance Automotive parts, services and programmes. This is a fantastic opportunity to start your career in Formula 1 whilst enhancing your knowledge base and skillset, supplementing your current degree learning.
Our benefits package includes:
A salary of £21,000pa
Collective bonus
Company lease car scheme
36 days' annual leave
Access to private healthcare and generous pension scheme
Onsite Gym
A variety of other benefits and staff discounts
The application process:
Submit your on-line application, CV and covering letter
Your application will be screened by HR and the hiring manager
If successful you will be invited to attend an online interview will take place between November 2022 – March 2023
If successful your scheme will start in August/September 2023
We've signed the Gradcracker feedback pledge.
(This means that we will supply feedback if requested after an interview.)
1e127ede32d8f816eacfb0aed73cee11