We have over 25 years' experience in designing and delivering Light Rail systems in more than 50 cities around the world.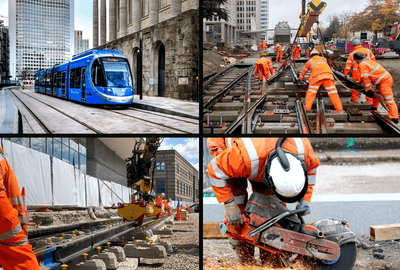 In the UK, we deliver design, construction and maintenance for light/metro rail projects. Our range of skills and experience affords us the capability to offer our customers a flexible service, focused to meet their specific needs. We seek to work in partnership with our customers to identify optimal engineering and value-based solutions through Early Contractor Involvement, considering the impact of design decisions on a whole life cost basis.
Urban Rail transit offers low energy consumption and high efficiency travel, opening up under-populated areas and aiding regeneration.
Increasingly becoming an integral part of urban planning, it provides one of the most convenient and safest modes of transportation within inner city areas – enhancing regional quality of life and having a positive impact on the local community, the environment and the economy.
Urban Rail Works In The UK: As the principal contractor of the Midland Metro Alliance (MMA), we are part of the biggest programme of transport regeneration in the West Midlands.
The MMA consists of a consortium of partners including the West Midlands Combined Authority and Colas Rail Ltd, with design provision from Egis, Tony Gee and Pell Frischmann.
The MMA was established in 2016 to contribute to the social and economic regeneration of the West Midlands – with the aim of extending the tram network by a further 32km by 2026.