Who are you and what do you do in the RAF?
I joined the RAF in 2008 from an Engineering Bursary. Currently I am the engineer responsible for the delivery of mission data in support of all Typhoon aircraft worldwide. With the vast array of advanced systems on the Typhoon, mission data is a critical cross platform element to allow the aircraft to get off the ground and carry out its tasking successfully.
This is my fourth tour and I have worked on a range of different aircraft, including Tornados at RAF Marham and Merlin helicopters at RAF Benson.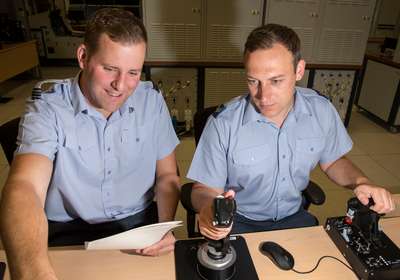 What do you enjoy most about your role?
I enjoy the technical challenge that an advanced aircraft like Typhoon brings. With the advanced systems fitted to the platform, it is a significant step change in thinking to the Tornado with a large focus on avionics and software. This has proved highly challenging. I also enjoy being a flight commander and having the opportunity to look after and lead a fantastic bunch of avionic technicians who support me in my task. These individuals are highly trained and effective people who can turn their hand to most tasks but also enjoy a good cup of tea and some banter along the way.
What are the best experiences you've had in the RAF?
One of the best experiences of my life has been deploying on Operation HERRICK as the Senior Engineer of 1419 Flt at Bastion, Afghanistan. By ensuring the provision of Merlin Helicopter assets to meet a demanding programme I could see the operational effect my work had. Be it bringing delighted troops back to Bastion on their way home, delivering essential supplies to remote personnel or saving someone's life through medical evacuation, the sense of achievement was immense. It also gave me surreal experiences including being in the middle of the desert at Christmas with my personnel having a snowball fight in Afghanistan! These are all experiences no other job could give me.
What kind of social activities can you/do you do?
There is a vast range of sports and social clubs on most stations allowing you to undertake activities at local and at service level. I am in charge of the station motorcycle club and have organised bike rides and safety training for personnel. This has provided me with new friends and a good environment to have a laugh whilst undertaking an activity I thoroughly enjoy.
What sports or adventure training have you taken part in?
I have completed my Mountain Leader (Summer) course with the RAF through JSMEL scheme. This has allowed me to take personnel out on Adventure Training in the UK and most notably, a recent expedition to the Canadian Rockies. I have also undertaken mountain biking, white water rafting and numerous other activities.
What kind of facilities do you have on station?
RAF Coningsby has all the support facilities of a main operating base, including full medical and dental facilities, a fully equipped gym with satellite gyms on the squadrons. There's also a vast array of sports facilities that personnel can use. There's also has a good social venue where you can have coffee during the day with friends or a drink at night. It also hosts regular comedy and music nights providing a good social focal point.
What education opportunities have you had?
The RAF has afforded me the opportunity to complete a BSc in Engineering Management and also complete an APMP Programme Management qualification. A lot of training is tied to the role you work in and involves specialist courses, but where applicable the RAF has sent me on some of the world's leading training courses to allow me to effectively undertake my job.