We're interested in your strengths, what you want to learn, and how far you want to go. Be yourself and let's explore how we can make a bigger impact, together.
We recruit on strengths and how you can apply these to the world of work. Here's a guide to what we look for when meeting new candidates (you might be surprised by how many of these you already have). But it's not a definitive list. Above all, we're impressed by candidates who are authentic and honest in their answers.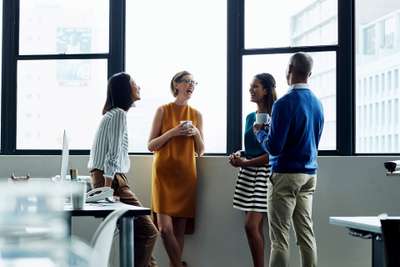 Accountable
Working on your own project or in a successful team means taking personal responsibility for delivering on your commitments. Taking ownership and being accountable for your tasks helps you to achieve these effectively.
Adaptable
The constantly changing world of work means employers like us need people who have the ability to adapt to new situations and to use their creativity to find innovative solutions.
These people are usually highly motivated and have a real sense of responsibility. They don't let obstacles stand in the way of doing a job well.
Agile
The need to constantly learn and develop has never been more important. The ability to grasp new concepts quickly and apply this learning immediately ensures the best possible outcomes for our people and our clients.
Analytical
People who are open minded, hungry for knowledge and will actively learn new ways to do things are highly valued by us. They're also usually great listeners and can analyse information quickly. This ability to be analytical means they can not only draw conclusions from information, but can also apply it to their work.
Curious
The importance of continuous innovation and creativity are key for the future of work. New approaches to complex problems are what sets us apart from the crowd and differentiates us as one of the top global professional services firm. It allows us to remain at the cutting edge of delivering solutions for all our clients.
In the know
We're a global company that works across industries and sectors, so having people in our teams who have an affinity for current affairs, global trends and market activity is very important. Today this extends to staying attuned to technological innovations, too, as we pride ourselves on offering our clients the best tech solutions for their needs.
Numbers savvy
We see numbers as a language which, when understood, offers great value to our clients. This means we look for people who understand and interpret numerical information in a wide range of formats. They're also able to use this strength to derive insight from this data, to solve problems and make recommendations.
Resilience
Everyone faces challenges in their lives. How we tackle these challenges is important and having a positive attitude in overcoming obstacles.
Strong communicator
This goes beyond being a strong verbal and written communicator. It's the ability to adapt your communication style based on your audience and distil complex information into simple terms. This strength is highly valued by us because it means you're able to work with a variety of people.
On top of this, we look for people who also have the ability to inspire confidence and build trust in others. This is usually seen in people who make a point of delivering on their promises in a clear and professional way.
Team player
A team that works well together, delivers great work. So, we look for people who naturally build their own networks, who find common ground with others and who listen to their friends, mentors and colleagues in order to broaden their own knowledge. And as we celebrate different ways of working, we also look for people who are as happy working collaboratively online as they are in person.