Essity at a glance
Do you want to make a difference every day? We do. Now it's your chance to join a global company that is breaking barriers to well-being!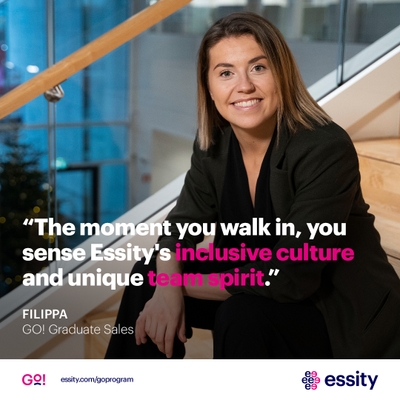 Essity is a leading global hygiene and health company dedicated to improving well-being through our products and solutions – necessities that play an essential role in improving well-being for everyone, everywhere. Indeed, the name Essity stems from the words 'essentials' and 'necessities'. We produce many leading global brands such as Tena and Tork, and in the UK well-known household brands such as Bodyform, Cushelle, Plenty and Velvet. Our medical division includes strong brands such as JOBST, Leukoplast and Cutimed. Our customers range from acute and community care to hotels, restaurants, and public institution, as well as leading high street retailers.
Essity has about 46,000 employees globally – with around 1,600 based in UK&ROI. We strive to attract and retain the best talents across a wide range of professions, including manufacturing, engineering, sales, marketing, e-commerce, finance, and sourcing. We have 6 manufacturing sites and 4 office locations across UK&ROI, with our field sales force reaching across all four UK regions and Ireland.
The company's headquarters is located in Stockholm, Sweden, and Essity is listed on Nasdaq Stockholm.
Our sustainable business model creates value for people and nature. Globally, we are committed to supporting the delivery of the UN's Sustainability Development Goals, and we are one of a tiny handful of European companies that is recognised on the global Dow Jones Sustainability Indices.
Within UK&ROI Essity has led on taboo breaking campaigns tackling the stigma that still exists around menstruation and incontinence. Essity was invited in 2019 to be a part of the governments Period Poverty Taskforce to help the UK government tackle period poverty throughout the UK.
Hand hygiene is critical to what we do and we have worked with school children on hand washing campaigns – even before COVID-19 appeared. We have continued to run all manufacturing sites during the pandemic, with Essity helping support government guidance on workplace safety.
Graduate opportunities
Joining us on any one of our graduate programmes – be it our central GO! Programme or within our specialist engineering or medical sales division programmes - you will become part of a growing and exciting company that places considerable emphasis on sustainability and challenging the status-quo. We provide you with the experience of working in a challenging and fast-paced environment, where you create value for people and nature.
We want you to bring your perspective, think differently, embrace challenges and contribute to the business from the get-go. Together, we'll find the right blend of business needs and your personal aspirations to support you in realising your full potential. Together, we will give you the tools and support from which you can drive your development and career at Essity. Together, we are people who make a difference.