By Sophie Hare-Scott - Gradcracker
In our recent webinar with CERN the topic of relocation and life at CERN for students and graduates was a key theme, and we wanted to share the insights with you.
If applying to and potentially working for CERN (one of the most respected scientific centres in the world) wasn't daunting enough, then you throw in the fact that you would need to move to a brand-new country to do so…
How does a student or graduate go about finding a place to live? Find roommates? Afford rent, bills, food? Make friends?
We discovered that when you are offered a role at CERN you are provided with access to a number of resources to help you with the logistics of moving to the area.
You will have access to the Young@CERN Facebook group which is filled with flat listings, social events, helpful resources about the area and is how both Ellie and Fergus found their flat.
Ellie and Fergus, who were part of the webinar panel, were both undertaking a 'Technical Studentship' with CERN – a placement year as may more commonly be known here in the UK.
Before joining CERN, Ellie and Fergus had a call with the previous residents of their flat and its landlord so that they could ask any questions and have a 'virtual' tour before signing the lease.
They live across the border from CERN in nearby Saint-Genis-Pouilly in France, which as they put it is "cheaper than living in Switzerland".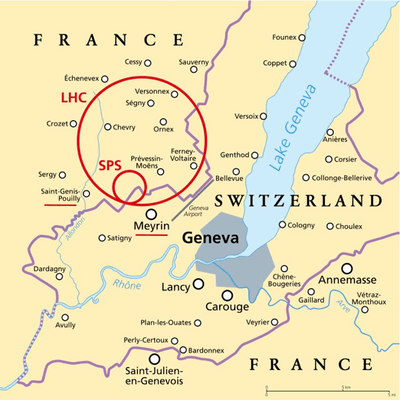 It turns out that a large number of students and graduates who work at CERN live in Saint-Genis-Pouilly as it's less then 3km away from the main CERN site at Meyrin, Switzerland.
If you decide you want to wait to find somewhere to live until you have started your employment, then that's also an option as there are two CERN hostels that you can stay in until you find the perfect place to live.
Questions about your visa? You will also be able to chat with current students and graduates at CERN via a dedicated WhatsApp group and they will be able to help you with any technical questions you have about visas, the local area and allow you to connect with and make friends before you even arrive to start your role.
All roles at CERN come with a generous monthly salary which is more than enough to cover your cost of living whilst working at CERN and yet still allowing you to enjoy the many social highlights the region has on offer.
From skiing in the Alps, to sampling local vineyards, joining sports teams, and attending a multitude of social activities with your co-workers, there really is something for everyone.
CERN itself is set in a stunning location situated between the Jura Mountains and the Alps, the views on a clear day are breathtaking. You'll also find numerous forms of wildlife roaming around the grounds.
As well as being able to speak to other students and graduates about working at and relocating to CERN, the HR team are always on hand to help you with any questions you may have or any support you may need.
Check out the full Gradcracker webinar with CERN by following this link…