About Us
Rail-Ability is one of the top manufacturers and converters of specialist Road-Rail machinery to sell into the Railway industry for carrying out Railway maintenance, renewals works and new infrastructure installations.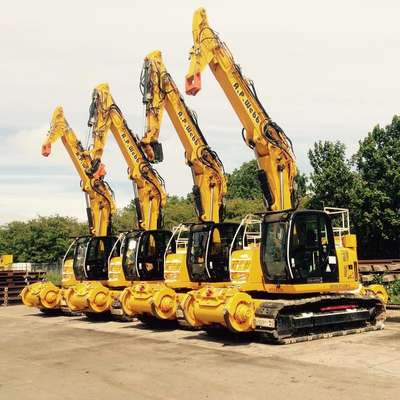 Rail-Ability has expanded its activities rapidly since 1999 to the point where we now convert a comprehensive range of specialist railway equipment – including 360 Excavators Cranes, Tracked Dozers, and 4×4 Lorries – and we manufacture our own Mobile Elevating Work Platforms, Rail Trailers and various types of hydraulic attachments.
Rail-Ability provides a fully encompassed service to clients, taking projects from the initial concept stage, undertaking mechanical design and systems development, right through to the manufacture, testing, commissioning and certification of the finished working product, all from our central midlands factories.
Why our products lead the way:
Offering complete engineering solutions for Road-Rail Plants to the Rail Industry, we focus on supplying innovative products and methodologies, utilising the latest technologies, that deliver excellence in dependability.
Safety
Practical understanding of machine applications, combined with an in-depth knowledge of safety principles and requirements, allows us to adhere to the rigours of BS EN ISO 13849 and BS EN 62061 for functional safety, whilst maintaining operator intuitive ergonomics and machine efficiencies.
Innovation
Founded on developing and engineering new solutions for an ever-changing industry, we continue our drive and determination to innovate new solutions today for tomorrow. Recognised with numerous awards for innovation, we strive to be market leader in our sector.
Quality
Our TŰV Rheinland accredited ISO 9001 QMS ensures the quality of products and services, and provides our customers with the confidence that we are focused on meeting their requirements to deliver reliable, robust equipment fit for a safety critical industry.