Summer Summary
The 2016 Formula Student season has been a constant series of ups and downs, from our best ever time in an event, to the multitude of powertrain issues.
CR12, dubbed "Nella" by the team after the widow of Tom Pryce, Formula 1's sole welsh driver, was a step into a new level of performance for Cardiff Racing, weighing in at a slight 181kg including the new-for-this-year aerodynamic package. The car had undergone a vast diet, losing some 15kg to offset the 10kg addition of wings, the complete car weighed less in fact than the previous iteration even with the aero package.
Testing showed excellent performance potential, we were achieving best-ever skidpad times at testing and at a joint test with other UK teams, we held the fastest clean autocross time.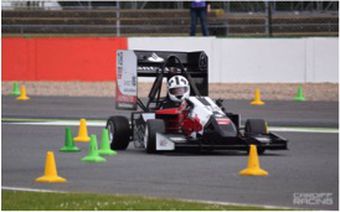 Only six days before leaving for FSUK at Silverstone, disaster struck. During one of the final tests, the piston in the fore cylinder cracked, causing complete seizure of the engine - transforming into an expensive paper weight.
Engine replaced, the team headed to Silverstone. We competed in 3 static (Design, Business, Cost) and 4 dynamic (Acceleration, Skidpad, Autocross, Endurance) events. The static results filled the team with joy, achieving excellent points across all three with an 11th position in Business and a 12th in Cost (out of over 100 teams). Dynamics began with skidpad, where a time of 5.287s brought us tantalisingly close to our best ever. Acceleration however was where the spare engine began to display signs that it was not functioning correctly as we were much slower than expected. In sprint that afternoon, our fears were confirmed as the clutch was slip worsened causing a poor time. A new clutch was fitted for the endurance however within a small number of laps, the clutch burnt out and our competition was over, hugely disappointing considering the excellent start.
We visited our colleagues in Prague to use their workshop to fit our final spare Aprilia. As we are changing powertrain next year, this was the last race it would see. Engine in place and running smoothly we were eager for our final competition in Hungary to show what Welsh engineering can really do! Now a finely tuned static event machine, we received awards for 2nd place in Business and 3rd place in Cost and also achieved 9th position in Design. This was the best start Cardiff Racing has ever had to an event and set us up strongly for overall position with the dynamic events ahead.
Disaster was waiting around the corner however and the rollercoaster began for the team, scrutineering and statics had gone well, we then found a broken hub bearing (on a national holiday in Hungary!), we flew out a spare bearing and found we were in the Business final, we found 2nd gear wasn't working, we smashed our skidpad record time (4.99s), the clutch cable broke after autocross, we fixed it all for endurance and were setting strong times, only to be disqualified for an oil leak.
Then team was extremely disappointed to have come so very close to greatness, but have had our powertrain fail on us repeatedly. This however is the last year we will be using the (now 7 year old) Aprilia engines, moving onto a British manufacturer and 3 cylinders next year with the Triumph 675 engine.
We will take from this tough season lessons from the failures and pride in the successes. Though plagued with powertrain issues, CR12 (Nella) has proven an immensely fast car (even in one gear), had she run well, we could only dream of the results.
We are immensely grateful to the University, the team, the volunteers and all our sponsors for making the Formula Student project a reality, the following season we will make the dream a reality and will not let the past repeat itself. Keep your eyes to the sky, this dragon WILL fly.