2019-2020 Summary
The 2019-20 season proved to be a bit different to what we were expecting due to the emergence of the global pandemic; however the team persevered to achieve as much as possible during this time, despite not being able to build a car.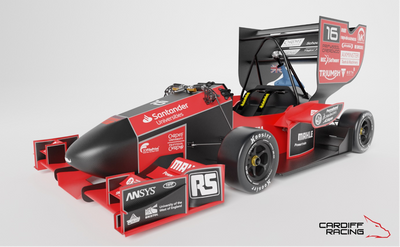 CR16 was designed from scratch, focussing on solving a lot of the issues experienced with the previous Cardiff Racing challenger CR15, especially around reliability and maintenance. A new chassis concept was adopted, offering improved access while striking a good balance between performance and ease of manufacture. New Hoosier tyres were introduced, promising a big upturn in performance due to the increased grip, but requiring a re-design of several key components to deal with the increased loadings. The aerodynamics package had a significant update, with the addition of a diffuser and rear wing DRS, as well as a strengthened and more complex front wing. A new additive manufactured sump was also designed, including movable baffles to prevent oil starvation.
However, it was not to be. With the workshop shut down in the Spring, and the planned competitions in the summer cancelled, the team pivoted their focus to the virtual events being hosted by the IMechE (FSUK), and a joint team from Formula Student Netherlands and East (FS Online). These two virtual events offered the team a lot of experience in presenting and justifying designs, and through the use of sim racing, a chance to compete in the driving aspects as well.
The team adjusted well to the new way of working, producing over 2 hours of presentations detailing every feature, process and design decision on the car for both competitions, as well as answering detailed Q&A sessions from the judges. They presented a cost and manufacturing breakdown of the car, showing the decisions made of cost vs performance and the processes they had selected for construction. A business case for the car was also outlined, showing how a prototype race car could be sold to a wider audience while delivering value to stakeholders.
There were also several virtual dynamic events undertaken by the team, from virtual sim racing to car tuning challenges, allowing the team to show off their experience and skills in these areas, while competing against teams from around the world.
Overall, the team was pleased with the results achieved: 20th place in the UK Statics and 4th place in the dynamics, including a win in the virtual skidpad as well as 10th place overall in FS Online.
Design work is currently underway for the car for the 2020-21 season, CR17, the hope being that it can compete for real in the summer of 2021.