About Us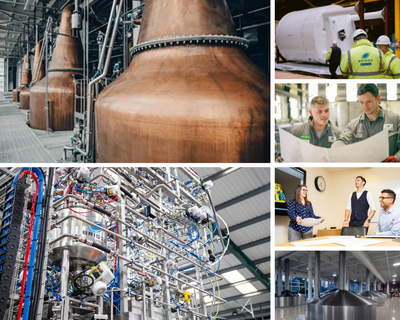 Briggs of Burton work with the world's largest distilled spirits, brewers, food and pharmaceutical producers. With over 285 years' in the industry, Briggs of Burton provide the design, build and manufacturing capabilities to bring projects to life and are leading the way in creating sustainable engineering solutions for greener manufacturing methods.
With six sales and engineering sites across three continents our graduates work alongside the award-winning team on everything from Tequila distilleries in Mexico to food production in the UK or European pharmaceuticals projects and Australian breweries. No two days are the same and as a graduate you are at the forefront of designing, building and installing the the biggest manufacturing facilities, all while travelling across the world.
Careers at Briggs of Burton
As a graduate, you will have the opportunity to work across the whole spectrum of the business supporting the team behind some of the world's largest global brands. No two days will be the same and you will get the opportunity to support projects responsible for producing some of the biggest household names.
We know that brand culture is everything, that's why we offer a flexible working environment. Work from home or in the office; we will provide you with the tools to work where you're most comfortable. Plus, with perks such as casual drinks with the team on Friday afternoons, company pension plan, a shopping discounts platform, and many more, you'll feel like part of the team in no time.
Our Global Technical Centre in Burton on Trent is fully accredited by major engineering professional bodies – Institution of Chemical Engineers (IChemE), Institution of Mechanical Engineers (IMechE) & Institution of Engineering & Technology (IET) offering ongoing learning opportunities for all graduates. By following the Briggs Engineering Graduate Training Scheme, you will also get the opportunity to achieve formal Chartered status allowing for continual learning and development in your chosen field.
If you are looking for an inspiring career in STEM, driving sustainability and efficiency across some of the largest manufacturing industries in the world then why not join the Briggs team.